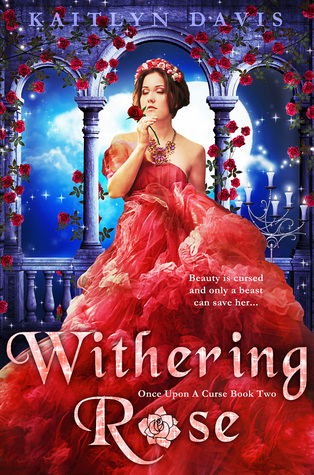 Withering Rose by Kaitlyn Davis
Visit the Author's Website HERE
"As the heat finally disappeared, I felt the bloom blossom in the very core of my soul, a rose just like my name--a ticking clock hidden behind a façade of beauty. From that moment on, my life would become a countdown, and all I could do was wait and watch as the petals of time slowly started to fall."
Omorose Bouchene has a secret--magic. There's only one problem. At the age of seven, an earthquake struck, catapulting her into a new world. A land made of skyscrapers and cell phones. Fast cars and fluorescent lights. A land where magic isn't supposed to exist and anyone who wields it is the enemy.
But after ten years of hiding, she's desperate to find a place where she can be free. Because all magic comes with a curse, and her curse is time--every ounce of power she uses strips days off of her life. The clock is winding down, and the only option left is to escape to the realm of the Beast. But the king of monsters isn't what he seems. And the more Omorose opens her heart, the more she comes to realize that the only person she may need to fear is herself.
*This is the second book in Once Upon A Curse, a series of interconnected stand-alone novels all set in the same fantasy universe.
I received a copy of this book from YA Book Bound Tours in exchange for an honest review. All opinions are my own. Buy a copy today!
I was lucky enough to enjoy book one of this fairy tale retelling series, and really enjoyed it. And while we do see Jade and Asher again, "Withering Rose" stands on it's own. As as 'Beauty and the Beast' retelling, this story stuck closer to our beloved movie version than anything I've read before.
Omorose is a princess with special magical powers that are passed down through the generations. She and her father are suddenly thrust into a world where magic is feared and hated and they must keep her powers a secret, even as it fights to be freed.
Her powerful magic of plant life is tempered by a horrible curse: each time she grows life, a little of her own life fades away. Omorose yearns to be free from the dangerous world around her, and from her magic powers. So she sets out to find the King of Beasts.
I enjoyed this retelling way more than I originally thought I would. I'm not sure why I doubted, especially
after enjoying book one,
Perhaps it is the less than stellar cover :/ I would love to see this remade featuring the dress described in the book! But I think I really enjoyed that the author spend more time setting up some world building. We get to learn the history of magic and why it comes with such a high price. I really appreciated this as it grounded me a lot more in the story.
All the similarities between "Withering Rose" and the Disney version of 'Beauty and the Beast' were so much fun to experience. Any fan of the movie will really enjoy this fantasy version as well. But! Be aware that it is heavily romance driven as well. Omorose and Cole learn to trust and love pretty quickly, and it is full of passion and honey dripped lines. It didn't read so bad though. Both the characters were already set up for quick, rash behaviors, so the romance fit right in.
This retelling is YA romance through and through. It is quick and dramatic. Oh so dramatic. Big event, after big event, after world ending event. But it sure makes for a quick read! I flew through, excited to see if Omorose and Cole would be able to break the curse. Being reintroduced to Asher and Jade was certainly an added bonus.
If any part of this review or summary sounds up your alley, then I think you should pick this one up. Ignore that odd cover and you will find a fast, romance driven retelling of Beauty and the Beast.
4 stars
from me and I am excited to continue the journey in book three!