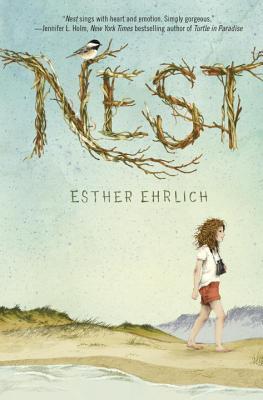 Nest by Esther Ehrlich
Visit Author's website HERE
Publisher: Wendy Lamb Books
Publishing Date: September 9, 2014
Goodreads Summary:
For fans of Jennifer Holm (

Penny from Heaven, Turtle in Paradise

), a heartfelt and unforgettable middle-grade novel about an irresistible girl and her family, tragic change, and the healing power of love and friendship. In 1972 home is a cozy nest on Cape Cod for eleven-year-old Naomi "Chirp" Orenstein, her older sister, Rachel; her psychiatrist father; and her dancer mother. But then Chirp's mom develops symptoms of a serious disease, and everything changes.




Chirp finds comfort in watching her beloved wild birds. She also finds a true friend in Joey, the mysterious boy who lives across the street. Together they create their own private world and come up with the perfect plan: Escape. Adventure. Discovery.


Nest

is Esther Ehrlich's stunning debut novel. Her lyrical writing is honest, humorous, and deeply affecting. Chirp and Joey will steal your heart. Long after you finish

Nest,

the spirit of Chirp and her loving family will stay with you.
I received a copy of this book from the publisher via Netgalley in exchange for an honest review. All opinions are my own. Buy a copy at Book Depository today!
My Thoughts:
A coming of age story in the 1970s, 'Nest' is a brilliant debut novel from Ehrlich. Our MC is Chirp, an 11 year old quirky girl with a loving, ordinary family. Soon however, Chirp's mom is diagnosed with a debilitating disease. The reader follows along as the pieces fall apart, but some new pieces are fit together.
'Nest' tells us the story of a disease that wildly affects a quiet family. A diagnosis that touches and changes everyone. I loved the journey. It changed each person individually and to see their choices and imagine them in my own life...it got pretty heavy. I thought Ehrlich's exploration of grief and shock was incredibly well done and though without seeming 'in your face'.
But within the dropped bombshell, a friendship blossoms. Chirp falls into a quick, easy friendship with her neighbor, Joey. It is an odd friendship built out of a mutual understanding of pain and lonliness. There is a level of understanding between the two that carries the story right on through to an ending with hope. Adorable, innocent, wonderful are the only adjectives I can apply here.
'Nest' provides a glimpse in time, the era, and into a seemingly normal family. It is a snapshot of change, loss, and hope. It is a
wonderful
book.
5 stars
easily. I could recommend it to anyone looking for a touching coming of age story or just a great book to read.