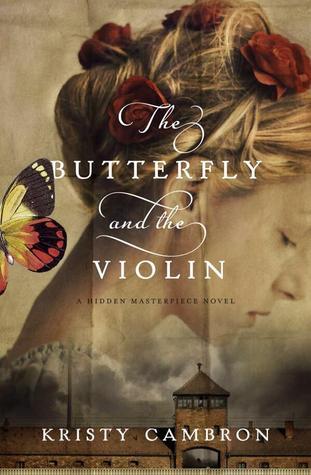 The Butterfly and the Violin by Kristy Cambron
Visit the Author's website HERE
Publishing Date: July 8, 2014
And then came war . . .

"Today." Sera James spends most of her time arranging auctions for the art world's elite clientele. When her search to uncover an original portrait of an unknown Holocaust victim leads her to William Hanover III, they learn that this painting is much more than it seems.

"Vienna, 1942." Adele Von Bron has always known what was expected of her. As a prodigy of Vienna's vast musical heritage, this concert violinist intends to carry on her family's tradition and play with the Vienna Philharmonic. But when the Nazis learn that she helped smuggle Jews out of the city, Adele is taken from her promising future and thrust into the horrifying world of Auschwitz.

The veil of innocence is lifted to expose a shuddering presence of evil, and Adele realizes that her God-given gift is her only advantage; she must play. Becoming a member of the Women's Orchestra of Auschwitz, she fights for survival. Adele's barbed-wire walls begin to kill her hope as the months drag into nearly two years in the camp. With surprising courage against the backdrop of murder and despair, Adele finally confronts a question that has been tugging at her heart: Even in the midst of evil, can she find hope in worshipping God with her gift?

As Sera and William learn more about the subject of the mysterious portrait--Adele--they are reminded that whatever horrors one might face, God's faithfulness never falters.
I received this email from the publisher via Netgalley in exchange for an honest review. All opinions are my own. Buy direct from the publisher HERE!!
My Thoughts:
"The Butterfly and the Violin" is a book that shocked me with its depth
,
historical detail, and beauty. It is definitely more than just a pretty cover, and it is gorgeous!
We begin the novel with Sera James living and working in present day New York City as an art director. She has been searching for a painting she remembers from her childhood, a painting of a beautiful woman cradling her violin, and numbers printed inside her wrist. Sera is determined to find the original painting and discover the woman's story. Her searching leads her to the lap of William Hanover III a multimillionaire who wants the painting for his own reasons.
Soon, we met Adele Von Bron, a talented and privileged Austrian whose father is a member of the upper Third Reich. She, however, is questioning Germany's actions. One of her close friends is Jewish and after a dangerous evening trying to help them escape, Adele is carted off to Auschwitz to be 'reeducated'. Luckily, as the SS guards carry Adele off, her mother thrusts her violin into her arms. Adele has always loved playing the violin and has become quite the prodigy in Austria. Little does she know that now, her violin might save her life.
I enjoyed reading Sera's parts. I loved her search for the painting, to know the story of the Holocaust girl. I could understand her passion, her drive, her need to fill her time with something important and worthy. I think on her own,
Sera would have been a great character. She had history, hurts, and hopes
, but when compared to the depth of feeling the author creates in us for Adele, Sera sort of pales in comparison. I did enjoy her story, but I always hurried on to Adele's chapters. William bugged me though. He just felt so two-dimensional, super flat. I found myself wishing I could get inside his head and see what he was thinking, how he felt about Sera. I suppose two character's voices were enough for the editor, but with this story, a few short William perspectives could have worked. Instead he just came off as too good to be true.
Adele, of course, was the shining star of the story. She stood up for love and friendship.
We get to see her at her highest
: falling in love, playing for all of Austria and Germany...
and then we see her at her worst
: losing hope, questioning life, existence and God. I almost became as obsessed as Sera with
needing
to know what was going to happen to Adele, would she survive Auschwitz? Could she ever possibly have a happy ending? How did she come to be painted?? I also enjoyed the outside route the author took in creating her as a rich, privileged non-Jew; it certainly added another layer to Auschwitz history.
Lastly, the character of God. I love how Cambron used Him as an outside character, a force unseen, yet still working. Often times in Christian fiction, authors have God be an overwhelmingly obvious force. And while He certainly can be, sometimes God is just the quiet, unseen force. And in a book about the Holocaust, where an author could try to blame God or create places for Him to be moving,
Cambron choose the best path, and just let God be God
.
Trigger Warnings:
As a sensitive reader, I was underprepared for what this book would contain. For those who need to know: this book does contain a few graphic scenes, feelings of hopelessness, and loss. One scene, as Adele first enters Auschwitz, was definitely something I wished I wasn't reading before bed. Beyond these initial scenes and shocks for Adele, I felt the author did a fine job giving us a good picture of the horrors without being overly graphic.
"The Butterfly and the Violin" is an
amazing
story of beauty, strength, friendship, and God. As Christians we were never promised an easy path, but we are instructed to keep our eyes on the Lord always. Even in the most evil of places He is there. Because of the flatness of Sera and William, I hesitate to give it the whole kit and kaboodle, but I can't help myself:
5 stars !!
I easily recommend it to any mature reader. It
is
a tough read because of the subject matter, but I made it through, and I am still thinking about it weeks later.
Book Two will be releasing in April 2015. See the cover and synopsis HERE!!