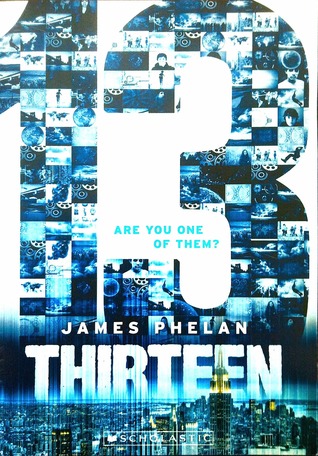 Thirteen by James Phelan
Visit the Author's website HERE
Publisher: Kane Miller
Publishing Date: August 26, 2013
Goodreads Summary:
13 books. 13 nightmares. 1 destiny.

I click my fingers and everybody dies.



Sam wakes from his nightmare to discover the terrifying reality. It will come true.





Kidnapped from school and finding out his parents aren't who he thinks they are, Sam is suddenly running from danger at every turn. Nothing will ever be the same again.





With his life and identity shattered, Sam's salvation is tied to an ancient prophecy. He is in the final battle to save the world, up against an enemy plotting to destroy us all.





He alone can find the last thirteen.
I received this book from Usborne Books and More. All opinions are my own. Buy a paperback copy today for $5.99!
My Thoughts:
One of the biggest complaints I have seen in reviews of this book is that it seems so 'young'. The readers who say this must go into the book thinking it is typical YA, but it isn't. 'Thirteen' is what I could classify as 'upper middle grade'. It reads like a middle grade, but it has some heavier topics mentioned in it that some middle graders might not be fully read for. With this in mind, I think the reading experience is much more enjoyable.
Our MC, Sam, is ripped from his normal, everyday life and thrust into a strange world where dreams are prophetic. But also changeable. The story starts off with a BANG and we keep on running for the first nine or so chapters. I love that Sam, and his accidental new friends Alex and Eva, are just typical kids trying to deal with a very a-typical experience. It made the story feel more believable to me and pulled me in that much more quickly.
The rest of the events occur in typical MG fashion: quickly, with rapid acceptance from our main characters. Does this bother me as a 26 year old reader? Yeah a little, but that is why I like knowing ahead of time that this is a MG book so it is written for a much younger audience, and that audience doesn't like lengthy paragraphs and pausing to reflect on the character's feelings. When I am in the mood for action, laughs, and a quick story, I like to pick up a MG. 'Thirteen' delivers this completely.
The ending is a
complete
cliffhanger, which is great for a series that is 13 books long!! One Goodreads reviewer was very peeved about the length of the series. but to me it makes complete sense. I've heard each book ends in a cliffhanger. Is the publisher looking to make more money on each installment? Probably. But it also helps get kids
reading
and
interested
in reading! When a young preteen boy is excited to read something, then by all means, give him more of what he wants! It also helps when the series is worth your time ;)
'Thirteen' is a great book for boys, or girls, around the ages of 12-15. There are some fight scenes, indicated violence (nothing graphic), blowings ups, and a generous share of teen life at a sci-fi-ish boarding school. It is a quick read and enjoyable at any age. I give it
4 stars
and recommend it to those who like non-violent violence, middle grade fiction, mystery, and intrigue :)