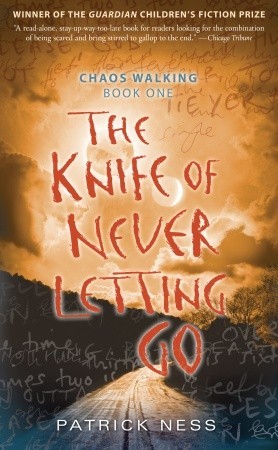 The Knife of Never Letting Go by Patrick Ness
Visit the Author's website HERE
Publisher: Candlewick Press
Publishing Date: July 14, 2009
Goodreads Summary:
Todd Hewitt is the only boy in a town of men. Ever since the settlers were infected with the Noise germ, Todd can hear everything the men think, and they hear everything he thinks. Todd is just a month away from becoming a man, but in the midst of the cacophony, he knows that the town is hiding something from him -- something so awful Todd is forced to flee with only his dog, whose simple, loyal voice he hears too. With hostile men from the town in pursuit, the two stumble upon a strange and eerily silent creature: a girl. Who is she? Why wasn't she killed by the germ like all the females on New World? Propelled by Todd's gritty narration, readers are in for a white-knuckle journey in which a boy on the cusp of manhood must unlearn everything he knows in order to figure out who he truly is.
I received a copy of this book from the library. All opinions are my own. Buy a copy from Book Depository today.
My Thoughts:
This was my first foray into Patrick Ness. The ladies at
Oh the Books
! rave about Ness all the time so I picked up 'Knife' with high expectations. Picking it up from the library was a major plus and helps me move closer to my secret goal of utilizing the library more frequently.
The expectations were set high so Ness would need to do some amazing things to meet them. The writing and the story were completely original. I couldn't liken it to anything except possibly Firefly because it has that same gritty, New-Frontier-Meets-Future that our beloved Firefly does. And while the telling is new, at it's base 'Knife' is about a boy trying to become a man, albeit in a violent and crazy new land.
Yet while reading it, I found myself frequently wondering
why
I was reading it. Large parts move at a snail's pace and feel quite survivalist (think 'Hatchet', which I hate). I forced myself to push through to the next bit of action which was always vibrant and violent. Reflecting on this, I am not sure I could quite recommend the book to anyone I know. At 500 pages, it can be a reallly slooow read.
Immediately after closing the cover, I wasn't sure 'Knife' had been my type. Events really ramp up in the latter portions of the book and end in a way I am sure leads the reader right into book two. The book is dark, wandering, and leaves it's characters with zero hope. Would I want to continue on with book two? Did Todd really grab me? Nope. 'Nope' was my realistic and immediate answer. I returned the book to the library and picked up the next adventure.
After much reflection however, I see how the book holds a lot of meaning. It is the story of how a boy truly becomes a man. Heavy topic. But it is also the story of the bond between man and dog. Touching! And what was that title all about? The story was about the knife of choices; all the choices made were good and bad, right and wrong, light and dark. Which side of the knife would Todd fall on with each decision made?
Overall, the high expectations did not feel met for me in this novel. It also wasn't
bad
by any means. My review leaves out SO much, things I don't want to spoil accidentally. All I can truly say is 'Knife' is an experience everyone should take for themselves. Rating? I had better stick with
3.5 stars.
I could recommend it to those who can handle hopelessness, violence, decisions, and sadness. Also if you like longer adventures with a touch of the sci-fi. 'Knife' should be your choice.