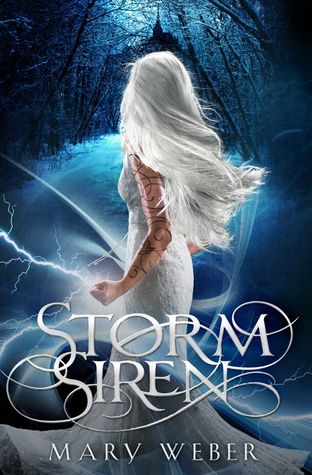 Storm Siren by Mary Weber
Visit the Author's website HERE
Publisher: Thomas Nelson
Publishing Date: August 19, 2014
Goodreads Review:
"I raise my chin as the buyers stare. Yes. Look. You don't want me. Because, eventually, accidentally, I will destroy you."



In a world at war, a slave girl's lethal curse could become one kingdom's weapon of salvation. If the curse—and the girl—can be controlled.





As a slave in the war-weary kingdom of Faelen, seventeen-year-old Nym isn't merely devoid of rights, her Elemental kind are only born male and always killed at birth — meaning, she shouldn't even exist.





Standing on the auction block beneath smoke-drenched mountains, Nym faces her fifteenth sell. But when her hood is removed and her storm-summoning killing curse revealed, Nym is snatched up by a court advisor and given a choice: be trained as the weapon Faelen needs to win the war, or be killed.





Choosing the former, Nym is unleashed into a world of politics, bizarre parties, and rumors of an evil more sinister than she's being prepared to fight . . . not to mention the handsome trainer whose dark secrets lie behind a mysterious ability to calm every lightning strike she summons.





But what if she doesn't want to be the weapon they've all been waiting for?





Set in a beautifully eclectic world of suspicion, super abilities, and monsters, Storm Siren is a story of power. And whoever controls that power will win.
I received a copy of this book from the publisher via Netgalley in exchange for an honest review. All opinions are my own. Check out the book here.
My Thoughts:
Oh man have I dropped the ball. I have lost all pretense of organization in all aspects of my life. Poo. So... I thought I posted a review on this book a while ago, in September, when I finished reading the book. But I didn't. And so here it is (I apologize Mary Weber!!):
Somehow our main character, Nym, has escaped certain death as an Elemental but is being sold as a slave...yet again. Nym is a dangerous slave because she doesn't know how to control her powers and all too often things go very, very wrong.
Yes, yes, and more yes.
The reader is thrown into a new world where slavery is quite regular and magic is eliminated at birth. Weber moves along at just the right pace to help us understand the world and how it works. Instantly we know Nym's status and see large glimpses of her personality. Too often for me lately, I get thrown into a new world and have NO idea what is going on. I hate the struggle of trying to figure out what's what or just DNF-ing. No problems like that here in 'Storm Siren' though!
As you read through each chapter, it is like layer after layer is slowly revealed. Like a flower slowly blooming. Weber does extremely well on maintaining her storyline and is consistent in her characters. The story progress slowly (but not obnoxiously so) until right near the end when the action truly explodes.
The big action scenes felt a bit muddled and written at a slower pace than I am used too. I was able to take the time to read each word and sentence fully without losing the overall pacing. Usually in fight scenes, my eyes are flying across the page carried from one sentence to the next paragraph to the end of the scene until the very end where I have no idea what truly happened. Was I able to slow down and enjoy 'Storm Siren's action more because I was already in love with the book or was it more writing magic from Weber?
I'd have to recommend this to the reader who loves fantasy, a great writer, and a jaded Elemental trying to atone for her mistakes.
4.5 stars
from me.
PS: Check out the GORGEOUS cover for Siren's Fury!!