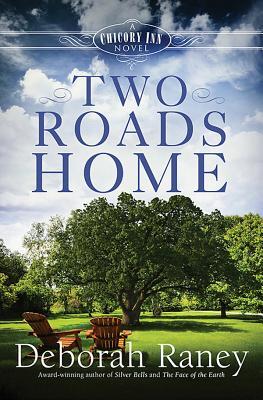 Two Roads Home by Deborah Raney
Visit the Author's Website HERE
Publisher: Abingdon Press
Publishing Date: June 2, 2015
Minor-but-nagging setbacks continue to sour Grant and Audrey Whitman s initiation into the world of innkeeping, but larger challenges brew when an innocent flirtation leads to big trouble for the Whitmans son-in-law, Jesse. Jesse Pennington s friendly, outgoing personality has always served him well, especially in a career that has earned him and his wife Corinne a very comfortable lifestyle. But Corinne and Jesse are both restless and for similar reasons, if only they could share those with each other. Instead, too many business trips and trumped-up charges of harassment from a disgruntled coworker threaten their marriage and possibly put their three precious daughters at risk. With their life in disarray, God is tugging at their hearts to pursue other dreams. Can Corinne and Jesse pick up the pieces of what was once a wonderful life before it all crumbles beneath them?
I received a copy of this book from the publisher via Litfuse Publicity in exchange for an honest review. All opinions are my own.
Buy a copy
today!
My Thoughts:
'Home to Chicory Inn' marks my, surprisingly, first foray into Deborah Raney's books. Because this is book two in a series, I knew I wanted to pick up book one at the library and read it first if I could. So this review may be bit of a two for one as I read them back to back.
The Chicory Inn series follows the Whitman family of five siblings. Book one featured Landyn, the youngest, and her husband Chase. That book starts off right in the middle of marital strife. Landyn is leaving her husband of six months because he made some major life decisions without consulting her. The rest of the story is one blow after the next leaving the reader to ponder how the couple could ever have a happy ending. I found it to be quite the whirlwind.
It
definitely
left me intrigued for book two, 'Two Roads Home'. Now we are stepping into the lives of Corinne, the eldest Whitman daughter, and her husband Jesse. They already have three daughters, a beautiful home, and a well established life. But of course, a wrench is thrown into the plans. Jesse has been travelling a lot for work, and his travelling companion is his female coworker, Michela. As a natural flirt, Jesse unintentionally leads Michela on and although he never does anything remotely inappropriate, his coworker claims he did and files a complaint.
Soon enough Michela is invading the Pennington's lives including some alarming events surrounding the children. The book was being set up for a 'Fatal Attraction'-esque storyline. Sadly, I was kept waiting for that 'big climax' I felt I was being set up for. No resolution ever really came about. I suppose most readers will think the end scene with Michela would be enough, but to me that just revealed even MORE how creepy and sad she was. Now I am left wondering, and almost assuming, we will see her again in future books.
Instead of being a whirlwind of bad events, the
story was much more subtle and focused on Jesse and Corinne learning to talk and trust each other again after years of marriage. Jesse reveals a life dream that he has been harboring for years and it completely throws Corinne for a loop. We follow along as the Penningtons make some BIG life changes that force Corinne to look at what she truly values in life. Outwardly she seemed to easily accept and agree with the changes, yet internally struggled with.
Overall, their marriage never really seemed like it was on the brink like Landyn's was in book one. They were both hurt and upset, but when Jesse came clean about his dealings with Michela, things were instantly on the uphill climb with only a few small bumps.
I hope I am not to sounding too negative, because the book was enjoyable. I think my lasting impression was the 'letdown' that there wasn't a 'big' coworker occurrence after the creepy buildup. And I am probably comparing it to the chaos of book one more than I should. But this is a good book featuring a marriage that was growing stale and how the couple works hard to maintain communication and support each other's dreams once again. 3 stars. I am super intrigued to see what other books in the series Raney will be writing. We know the next book will feature Danae the middle girl of the Whitman's, but I am also getting vibes that we will be reading a Link story, Bree story, and hopefully even a book devoted to Audrey and Grant. And now the worst part? Waiting for book three...
Click HERE for a chance to win a copy of Two Roads Home by Deborah Raney!!