Welcome to Sneak Peek Saturday!
Current book:
The Rest of Us Just Live Here
by Patrick Ness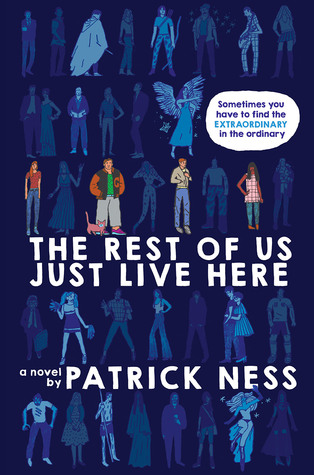 Goodreads Summary:
What if you aren't the Chosen One? The one who's supposed to fight the zombies, or the soul-eating ghosts, or whatever the heck this new thing is, with the blue lights and the death?
What if you're like Mikey? Who just wants to graduate and go to prom and maybe finally work up the courage to ask Henna out before someone goes and blows up the high school. Again.
Because sometimes there are problems bigger than this week's end of the world, and sometimes you just have to find the extraordinary in your ordinary life.
Even if your best friend is worshipped by mountain lions.
Award-winning writer Patrick Ness's bold and irreverent novel powerfully reminds us that there are many different types of remarkable.
He grinds his cigarette out with his foot. Then he picks up the butt and looks around for somewhere to throw it away so he's not littering, which, okay is maybe not the action of a killer.
Still. (pg 146)
Initial Thoughts:
Once when I was younger I started writing a story about the best friend of a hero character. Patrick Ness has stolen my idea. I'm only 18 pages in, so I guess that isn't totally fair to say...but still. This little sneak peek shows me what I have to look forward to with the narrator's quirky voice!
Thank you to
A Daily Rhythm
for inspiring Reading List's Saturday Sneak Peek link up!
Meet the Hosts of Saturday Sneak Peek:
Marissa
, writes book reviews from a variety of genres and shares thoughts on motherhood & life on
Reading List
. She loves to see what others are reading to grow her to-read list. Marissa also enjoys photography and a new journal to fill.
Bloglovin'
~~
Subscribe
~~
Goodreads
Alyssa
reads a variety of genres and writes about it at
Sunrise Avenue
. She is always looking for new bookish friends and recs'! Besides reading, Alyssa loves to bake and anything Doctor Who.
Twitter
~~
Google +
~~
Instagram
~~
Pinterest
Bloglovin'
~~
Subscribe
~~
Goodreads
Here are some rules if you decide to join in:
•

Pick up whatever book you are reading (non-fiction, fiction, children's... really the sky is the limit)
•

Open to any page you have already read
•

Share a few "teaser" sentences from somewhere on that page - make it interesting without flipping to a ton of different pages.
•

BE CAREFUL NOT TO INCLUDE SPOILERS!

(make sure that what you share doesn't give too much away -- You don't want to ruin the book for others!)
•

Share the title & author, too, so we can all add your book to our To-Be-Read lists!
This particular link up will be open for a month, so stop by often to share a new sneak peek, and grow your own TBR list!