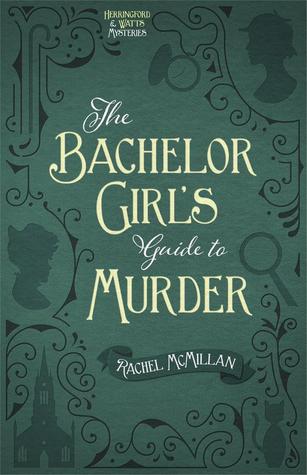 The Bachelor Girl's Guide to Murder by Rachel McMillan
Visit the Author's Website HERE
Publishing Date: March 1, 2016
In 1910 Toronto, while other bachelor girls perfect their domestic skills and find husbands, two friends perfect their sleuthing skills and find a murderer.
Inspired by their fascination with all things Sherlock Holmes, best friends and flatmates Merinda and Jem launch a consulting detective business. The deaths of young Irish women lead Merinda and Jem deeper into the mire of the city's underbelly, where the high hopes of those dreaming to make a new life in Canada are met with prejudice and squalor.
While searching for answers, donning disguises, and sneaking around where no proper ladies would ever go, they pair with Jasper Forth, a police constable, and Ray DeLuca, a reporter in whom Jem takes a more than professional interest. Merinda could well be Toronto's premiere consulting detective, and Jem may just find a way to put her bachelor girlhood behind her forever--if they can stay alive long enough to do so.
I received a copy of this book from the publisher via Netgalley in exchange for an honest review. All opinions are my own. Buy a copy today!
My Thoughts:
I am a fan of BBC's Sherlock, as is any sane and logical person. The show sparked my love for all things Sherlock and has even led me to read some of Sir Arthur Conan Doyle's original stories. Thus, after seeing a new read being touted as 'female Sherlock-ians', I knew I would be picking it up asap.
To be entirely upfront, I am not sure my expectations were met. I was under quite the pretense that our leading ladies, Merinda and Jem, were going to be very much like Sherlock and his companion John Watson. Perhaps it was this misknowledge that caused my great disappointment with the novel and so I want to warn you too, the next possible reader, that this is NOT THE CASE. I was certainly hoping that Merinda and Jem would have been more Sherlock-esque and less two silly women pretending.
Instead, Merinda is the daughter of rich, generous parents and as such seems bored with life and conventional society. She insists on injecting herself into the role of detective although she has no experience is is a woman...in 1910. Jem is her unsuspecting best friend who seems incapable of saying no to kooky Merinda even if she isn't entirely sure whether she wants to be parading around Toronto in men's clothing.
I was sad that the two came across as silly and inept since I think that was a message the author was trying to fight against--women being any less capable than men. But the concepts and revelations that Jem experiences were not very clear to me. By the time Jem decides whether or not she wants to be detecting with Merinda, I just didn't really care. Thus when it came to her Big Decision moment, I felt let down. Overall, she was flaky and bland to me.
I spent a large majority of the beginning of the story trying to figure out if I was missing something. McMillan was attempting a 'big bang' beginning, but I was left utterly confused. I felt like there must have been a previous book I missed out on. Turns out there is a #.5, '
A Singular and Whimsical Problem
', that
may
contain some missing info. Left treading water, I quickly found myself detached from the characters, which did not help my case. For example, we never really learn much about Merinda, her background and why she is so adamant on fighting society's expectations. Knowing these details would have helped me connect to her a lot more.
So yes, I experienced some major letdown. I mean, even the adorable cover had me excited for some Sherlock vibes! But as it's own story, it is cute enough.
If you are looking for a story about two females running amuk in 1910 Toronto
, who are both determined, in their own ways, to turn societal norms on their ear, "The Bachelor Girl's Guide to Murder" is your very next pick. I will be keeping my eye out for book two, but will enter in with lowered expectations. "
A Lesson in Love and Murde
r" is expected to drop this September with another novella releasing sometime before then. I'm rating this one with a disappointing
2 stars
because while it was cute enough in the moment, it surely hasn't stuck with me since then.