I think there are a few people like me out there, people who haven't read a lot of diverse books. Is this purposeful? No. I would books that featured diversity if they appealed to me, just as I would read any book that appeals to me. I don't often go out of my way to read books on a certain topic or culture. Perhaps I should...that is why reading through some of the BEA posts today has been so much fun! I have loved the
creativity
and all the book recommendations!
The first thing I thought of when I thought of 'Beyond Borders' were the books that I have read that feature Africa and poverty. I may not seek out books that teach me specifically about another culture or world, but I do like books that teach me something deeper, books that have a deep meaning.
Here are a few faves:
Hope Runs by Claire Diaz-Ortiz and Samuel Ikua Gachagua
Goodreads Summary:
Sammy Ikua Gachagua had lost his father to illness, his mother to abandonment, and his home to poverty. By age ten, he was living in a shack with seven other children and very little food. He entered an orphanage seeing it as a miracle with three meals a day, a bed to sleep in, and clothes on his back.




When Claire Diaz-Ortiz arrived in Kenya at the end of an around-the-world journey, she decided to stay the night, climb Mt. Kenya, then head back home. She entered an orphanage seeing it as little more than a free place to spend the night before her mountain trek.




God had other plans.




"




Hope Runs "is the emotional story of an American tourist, a Kenyan orphan, and the day that would change the course of both of their lives forever. It's" "about what it means to live in the now when the world is falling down around you. It's about what it means to hope for the things you cannot see. Most of all, it's about how God can change your life in the blink of an eye.
I have a review coming up for this one sometime in the next week, so look for my more in depth thoughts then. However, this book made me take a hard look at what is really most beneficial for children in third world countries: my money or week long missions trips. A lot to chew on!
Baking Cakes in Kigali by Gaile Parkin
Goodreads Summary:
Once in a great while a debut novelist comes along who dazzles us with rare eloquence and humanity, who takes us to bold new places and into previously unimaginable lives. Gaile Parkin is just such a talent—and

Baking Cakes in Kigali

is just such a novel. This gloriously written tale—set in modern-day Rwanda—introduces one of the most singular and engaging characters in recent fiction: Angel Tungaraza—mother, cake baker, keeper of secrets—a woman living on the edge of chaos, finding ways to transform lives, weave magic, and create hope amid the madness swirling all around her.





In Kigali, Angel runs a bustling business: baking cakes for all occasions—cakes filled with vibrant color, buttery richness, and, most of all, a sense of hope only Angel can deliver.…A CIA agent's wife seeks the perfect holiday cake but walks away with something far sweeter…a former boy-soldier orders an engagement cake, then, between sips of tea, shares an enthralling story…weary human rights workers…lovesick limo drivers. Amid this cacophony of native tongues, love affairs, and confessions, Angel's kitchen is an oasis where people tell their secrets, where hope abounds and help awaits.





In this unlikely place, in the heart of Rwanda, unexpected things are beginning to happen: A most unusual wedding is planned…a heartbreaking mystery—involving Angel's own family—unravels…and extraordinary connections are being made among the men and women who have tasted Angel's beautiful cakes…as a chain of events unfolds that will change Angel's life—and the lives of those around her—in the most astonishing ways
I really enjoyed the premise of this book: a woman gets a glimpse of Rwanda through the families and people who come and order cakes from her. Angel is from Tanzania so we get to see a bit of both Tanzanian culture and Rwandan culture as well. But because we are hearing the stories of her customers, we are seeing so much more. We see the lives of those who live there, those who are forced to live there, and all the aftermath of the Rwandan genocide.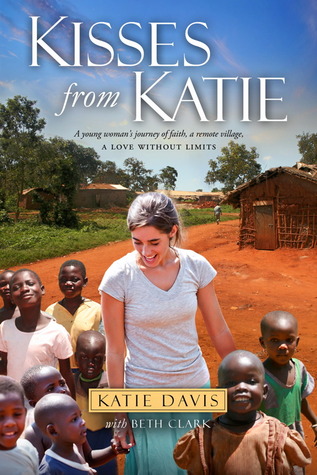 Kisses from Katie by Katie Davis
Goodreads Summary:
What would cause an eighteen-year-old old senior class president and homecoming queen from Nashville, Tennessee, to disobey and disappoint her parents by forgoing college, break her little brother's heart, lose all but a handful of her friends (because the rest of them think she has gone off the deep end), and break up with the love of her life, all so she could move to Uganda, where she knew only one person but didn't know any of the language? A passion to make a difference. Katie Davis left over Christmas break her senior year for a short mission trip to Uganda and her life was turned completely inside out. She found herself so moved, so broken by the people and the children of Uganda that she knew her calling was to return and care for them. Her story is like Mother Teresa's in that she has given up everything—at such a young age—to care for the less fortunate of this world. Katie, a charismatic and articulate young woman, has gone on to adopt 14 children during her time in Uganda, and she completely trusts God for daily provision for her and her family, which includes children with special needs.





To further her reach into the needs of Ugandans, Katie established Amazima Ministries. The ministry matches orphaned children with sponors worldwide. Each sponsor's $300/year provides schooling, school supplies, three hot meals a day, minor medical care, and spiritual encouragement. Katie expected to have forty children in the program; she had signed up 150 by January 2008; today it sponsors over 400. Another aspect of the ministry is a feeding program created for the displaced Karamojong people—Uganda's poorest citizens. The program feeds lunch to over 1200 children Monday-Friday and sends them home with a plate for food; it also offers basic medical care, Bible study, and general health training.





Katie Davis, now 21, is more than fascinating, she's inspiring, as she has wholeheartedly answered the call to serve.
What more can I say? That summary tells it all!!
7: An Experimental Mutiny Against Excess by Jen Hatmaker
Goodreads Summary:
American life can be excessive, to say the least. That's what Jen Hatmaker had to admit after taking in hurricane victims who commented on the extravagance of her family's upper middle class home. She once considered herself unmotivated by the lure of prosperity, but upon being called "rich" by an undeniably poor child, evidence to the contrary mounted, and a social experiment turned spiritual was born.



7

is the true story of how Jen (along with her husband and her children to varying degrees) took seven months, identified seven areas of excess, and made seven simple choices to fight back against the modern-day diseases of greed, materialism, and overindulgence.





Food. Clothes. Spending. Media. Possessions. Waste. Stress. They would spend thirty days on each topic, boiling it down to the number seven. Only eat seven foods, wear seven articles of clothing, and spend money in seven places. Eliminate use of seven media types, give away seven things each day for one month, adopt seven green habits, and observe "seven sacred pauses." So, what's the payoff from living a deeply reduced life? It's the discovery of a greatly increased God—a call toward Christ-like simplicity and generosity that transcends social experiment to become a radically better existence.
This one may seem an odd choice after the others. But 7 really opened my eyes a lot to the way I live my life. Jen Hatmaker is just a 'regular', albeit hilarious, woman living in Austen, Texas. However, Hatmaker decides to embark on a 7 month long journey and look deep at how they have been living their lives in such excess. Reading this caused me to look at my own life and inspired me to make changes to better others and myself. I am reading it through a second time right now with friends and feeling inspired all over again!
I hope these books inspire you to reach out to your fellow man. If you have any more recommendations, let me know!!!