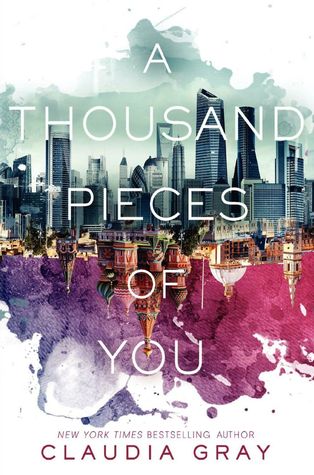 A Thousand Pieces of You by Claudia Gray
Visit the Author's website HERE
Publishing Date: November 4, 2014
Marguerite Caine's physicist parents are known for their radical scientific achievements. Their most astonishing invention: the Firebird, which allows users to jump into parallel universes, some vastly altered from our own. But when Marguerite's father is murdered, the killer—her parent's handsome and enigmatic assistant Paul—escapes into another dimension before the law can touch him.





Marguerite can't let the man who destroyed her family go free, and she races after Paul through different universes, where their lives entangle in increasingly familiar ways. With each encounter she begins to question Paul's guilt—and her own heart. Soon she discovers the truth behind her father's death is more sinister than she ever could have imagined.





A Thousand Pieces of You explores a reality where we witness the countless other lives we might lead in an amazingly intricate multiverse, and ask whether, amid infinite possibilities, one love can endure.
I checked this book out from the library! All opinions are my own. BUY A COPY TODAY!
My Thoughts:
I simply must establish some things right off the bat, lay some groundwork if you will.
1. Fact. Claudia Gray read my mind.
2. I LOVED THIS STORY. So I may rave a bit..
3. As I drafted my review, I thought of several reasons I shouldn't like this story. It does have flaws, holes, etc..............but the book's overall dreaminess has thoroughly won me over.
I had no idea what the book was going to be about when I snatched it off the library shelf. I merely knew it was topping list after list for most beautiful cover. I thought "Heck, it's here, why not?!" One of the best flukes of my life. Destiny. Fate. Alternate realities. YES. I love love stories that stand the test of time or in this case, are so awesome they echo across a multiverse. And it is a love story that kinda, sorta snuck up on me. So while not a slow burn, per se, it was a slow realization. Plus, in the world they fell realized their love in? A forbidden love as well.
The story began with a band that left me a bit lost and confused. I found myself in a pile of physics and science-y stuff and I wasn't sure I wanted to deal. But it very quickly all comes together and things begin to make more sense through the eyes of Marguerite who is more of an artist than a scientist.
Oh, and those reasons why I shouldn't like the book? There were a few holes when I thought back to the story later on. Two specific things I didn't like were 1. Paul goes from evil murderer to hot, good guy a liiiitttle too quickly. 2. The ending is too perfect. Like man, didn't that all just work out for everyone. I can't wait to get my hands on
book two
to see what happens.
Overall, DREAMY. Reminds me of
a movie that totally sucked
, and this book would be it's much better version. Or I've heard several people compare it to Cloud Atlas, but I wouldn't know. I can see why some readers wouldn't like this one, but I loved it!
5 stars
and I would push it on anyone who loves destiny, parallel worlds, science that rocks AND is evil, and close knit families.