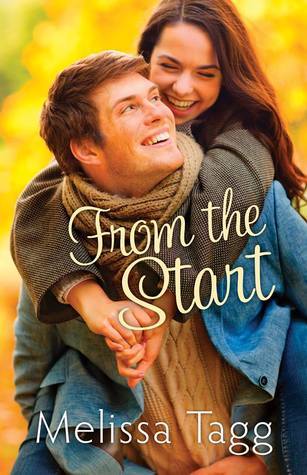 From the Start by Melissa Tagg
Visit the Author's Website HERE
Publishing Date: April 7, 2015
Kate Walker used to believe in true love and happily ever after. While her own love life may have left her brokenhearted, it hasn't kept her from churning out made-for-TV romance movie screenplays...until a major career slump and a longing to do something meaningful send her running back to her hometown of Maple Valley.





Permanently sidelined by an injury, former NFL quarterback Colton Greene is temporarily hiding out in a friend's hometown to avoid the media and the reminders of all he's lost. Maple Valley seems like the perfect place to learn how to adjust to normal life. The only trouble is he's never really done normal before.





While Kate plays things safe and Colton is all about big risks and grand gestures, they both get what it's like to desperately need direction in life. An unexpected project gives them both a chance to jumpstart their new lives, but old wounds and new dreams are hard to ignore. Starting over wasn't part of the plan, but could it be the best thing that's ever happened to them?
I received a copy of this book from Netgalley in exchange for an honest review. All opinions are my own. Buy a copy today!
My Thoughts:
Before I dive into this
fabulous
romance, a quick PSA: I won't be blogging much this week as I prep for Armchair BEA posts and spend much of my time reading for the INSPY Awards. Instead of posting I am going to be doing a lot of drafting, editing, and hopefully some blog clean up. Hugs for you all! *End PSA*
'From the Start' is one of those fabulous books that I just adored, but never got around to blogging about :/ But don't be put off by my blogging failures, 'From the Start' is a must read romance! Yes, I DID say must read.
Why? Colton and Kate were fully formed, swoon worthy
people
. Tagg has created realistic characters that you can't help but root for. Both MCs have big hurts in their pasts that were a part of the story, shaped who they were, but weren't all consuming of the story. It was touching to see them falling in love and taking risks again. Tagg also allowed them individual time to heal and learn to trust again which really allowed the characters to be strong, independent people who could still fall head over heels in love.
While we are talking about some great characters, I have to mention the cast of secondary characters: Webster, the troubled teen, Megan, Amelia, Norah, and of course Rosie's (Kate's) family, the Walkers. People, this is book one in a series about the Walker family. This means we get more of this fantabulous family that is happy and supportive but not overly cutesy. The Walker family is fun, adorable, and
normal
feeling. Why can't there be more 'normal' families in fiction? They are usually non-existent, overly cutesy, or in a giant riff. Not so here. It was a like a breath of fresh air that I really appreciated.
Tagg gives us some great pacing. No single event leads to the climax, but instead several events lead up to the conclusion. None of them felt contrived by the author and each lent a hand to our happy ending. The romance was cute, goofy, slow, and just old fashioned fun. Clean, but swoony is what I kept thinking to myself.
Book one of the Walker series is a flat out hit. If you like contemporary romances in anyway, Melissa Tagg should be bumped up to the top of your TBR list. Pick it up, dive in, then come back and let me know what you thought. ASAP!
5 stars.