Welcome to Sneak Peek Saturday on Sunrise Avenue!
Cress (The Lunar Chronicles #3)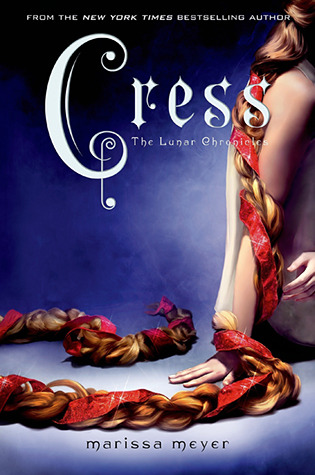 Goodreads Summary:
In this third book in the Lunar Chronicles, Cinder and Captain Thorne are fugitives on the run, now with Scarlet and Wolf in tow. Together, they're plotting to overthrow Queen Levana and her army.
Their best hope lies with Cress, a girl imprisoned on a satellite since childhood who's only ever had her netscreens as company. All that screen time has made Cress an excellent hacker. Unfortunately, she's just received orders from Levana to track down Cinder and her handsome accomplice.
When a daring rescue of Cress goes awry, the group is separated. Cress finally has her freedom, but it comes at a high price. Meanwhile, Queen Levana will let nothing prevent her marriage to Emperor Kai. Cress, Scarlet, and Cinder may not have signed up to save the world, but they may be the only hope the world has.
Cinder watched him with a weakness in her limbs. She yearned to reach into the screen and wrap her arms around him and say thank you -- thank you. (pg 312)
Thank you to
A Daily Rhythm
for inspiring Reading List's Saturday Sneak Peek link up!
Here are some rules if you decide to join in:
•

Grab your current read
•

Open to a random page
•

Share two (2) "teaser" sentences from somewhere on that page
•

BE CAREFUL NOT TO INCLUDE SPOILERS!

(make sure that what you share doesn't give too much away! You don't want to ruin the book for others!)
•

Share the title & author, too, so we can all add your book to our To-Be-Read lists!
This particular link up

will be open for a month

, so stop by often to share a new sneak peek, and grow your own TBR list!