Welcome to Sneak Peek Saturday on Sunrise Avenue!
Whispers in the Reading Room
by Shelley Gray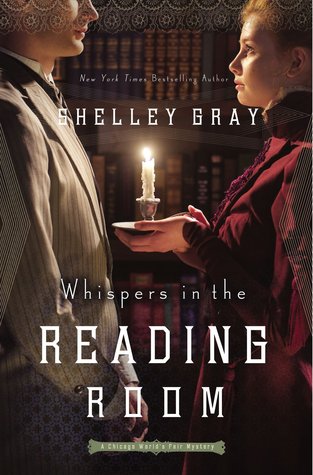 Goodreads Summary:
Lydia's job at the library is her world—until a mysterious patron catches her eye . . . and perhaps her heart.
Just months after the closure of the Chicago World's Fair, librarian Lydia Bancroft finds herself fascinated by a mysterious dark-haired and dark-eyed patron. He has never given her his name; he actually never speaks to a single person. All she knows about him is that he loves books as much as she does.
Only when he rescues her in the lobby of the Hartman Hotel does she discover that his name is Sebastian Marks. She also discovers that he lives at the top of the prestigious hotel and that most everyone in Chicago is intrigued by him.
Lydia and Sebastian form a fragile friendship, but when she discovers that Mr. Marks isn't merely a very wealthy gentleman, but also the proprietor of an infamous saloon and gambling club, she is shocked.
Lydia insists on visiting the club one fateful night and suddenly is a suspect to a murder. She must determine who she can trust, who is innocent, and if Sebastian Marks—the man so many people fear—is actually everything her heart believes him to be.
"...The dead man looks to be a gentleman, sir. And his murder looks to have been a particularly violent one as well. In addition, he seems to have received a recent beating." (pg 173)
Thank you to
A Daily Rhythm
for inspiring Reading List's Saturday Sneak Peek link up!
Here are some rules if you decide to join in:
•

Grab your current read
•

Open to a random page
•

Share two (2) "teaser" sentences from somewhere on that page
•

BE CAREFUL NOT TO INCLUDE SPOILERS!

(make sure that what you share doesn't give too much away! You don't want to ruin the book for others!)
•

Share the title & author, too, so we can all add your book to our To-Be-Read lists!
This particular link up

will be open for a month

, so stop by often to share a new sneak peek, and grow your own TBR list!