YIKES. Somebody stop me!! I am in love and things are going well...with books! I wish more of these were physical copies..*insert sad face*
A Bouquet of Love by Janice Thompson
Cassia Pappas has found herself in a nearly impossible situation. She wants to spend her time immersed in her new job at a Galveston Island floral shop, arranging blooms and brightening occasions with her lovely creations. But her huge Greek family–especially her father–has other ideas. They've all relocated to Galveston to open up a new family restaurant location on the Strand– directly across the street from the Rossis' popular pizza place–and they want Cassia's full participation.




To make matters worse, as Cassia is trying to develop a strong professional relationship with Galveston's premier wedding coordinator, Bella Neeley, her own father is intent on stealing all of the Rossi family's faithful customers. Not exactly the best way to get into Bella's good graces!




Still, at least Alex, that hot delivery guy from the nursery, is always hanging around the flower shop . . .




Fan favorite Janice Thompson gives readers one more romp with Bella, Galveston, and the bustling wedding biz in the final installment of her popular series. Anyone who loves quirky families, loads of laughter, and tender romance will find themselves hooked.
Kitchen Confidence by Kelsey Nixon
via Blogging for Books and the publisher
Goodreads Summary:
A young food star and new mom, Kelsey is an invaluable friend in the kitchen to everyone settling into their first kitchen of their own. Her recipes, which are broken down into simple steps, teach readers how to cook, highlighting key tools and basic techniques everyone should know. And yet her flavors are anything but basic; Kelsey gives everyone the confidence to start with the 2.0 version of a recipe instead of the boring standards. For example, she makes her house pilaf with quinoa instead of rice, and her addictive fruit salad is a savory first course instead of a lackluster dessert.
With 100 recipes and 60 color photographs,

Kitchen Confidence

brings home all of the energy and spirit of the Cooking Channel show of the same name, making it an excellent handbook for newlyweds, recent college graduates, and those discovering their kitchens for the first time.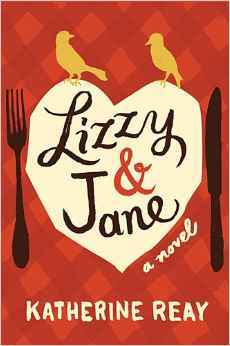 Lizzy and Jane by Katherine Reay
via Thomas Nelson and Netgalley
Goodreads Summary:
Lizzy and Jane never saw eye to eye. But when illness brings them together, they discover they may be more like Austen's famous sisters after all.
Lizzy was only a teenager when her mother died of cancer. Shortly after, Lizzy fled from her home, her family, and her cherished nickname. After working tirelessly to hone her gift of creating magic in the kitchen, Elizabeth has climbed the culinary ladder to become the head chef of her own New York restaurant, Feast. But as her magic begins to elude her, Paul, Feast's financial backer, brings in someone to share her responsibilities and her kitchen. So Elizabeth flees again.
In a desperate attempt to reconnect with her gift, Elizabeth returns home. But her plans are derailed when she learns that her estranged sister, Jane, is battling cancer. Elizabeth surprises everyone—including herself—when she decides to stay in Seattle and work to prepare healthy, sustaining meals for Jane as she undergoes chemotherapy. She also meets Nick and his winsome son, Matt, who, like Elizabeth, are trying to heal from the wounds of the past.
As she tends to Jane's needs, Elizabeth's powers begin to return to her, along with the family she left behind so long ago. Then Paul tries to entice her back to New York, and she is faced with a hard decision: stay and become Lizzy to her sister's Jane, or return to New York and the life she worked so hard to create?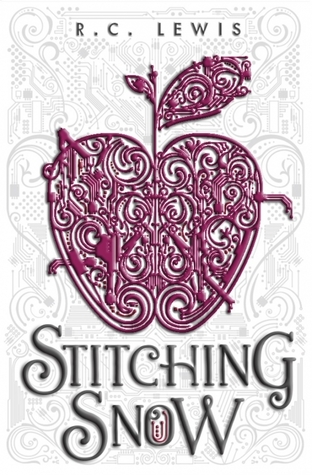 Stitching Snow by R.C. Lewis
via Disney-Hyperion and Netgalley
Goodreads Summary:
Princess Snow is missing.





Her home planet is filled with violence and corruption at the hands of King Matthias and his wife as they attempt to punish her captors. The king will stop at nothing to get his beloved daughter back—but that's assuming she wants to return at all.





Essie has grown used to being cold. Temperatures on the planet Thanda are always sub-zero, and she fills her days with coding and repairs for the seven loyal drones that run the local mines.





When a mysterious young man named Dane crash-lands near her home, Essie agrees to help the pilot repair his ship. But soon she realizes that Dane's arrival was far from accidental, and she's pulled into the heart of a war she's risked everything to avoid. With the galaxy's future—and her own—in jeopardy, Essie must choose who to trust in a fiery fight for survival.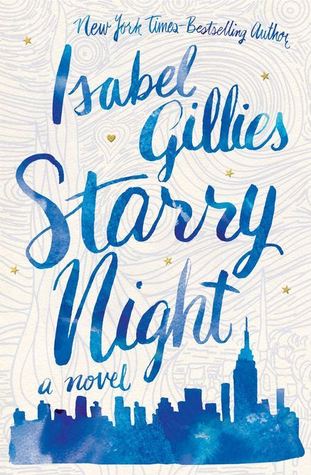 Starry Night by Isabel Gillies
via publisher and Netgalley
Goodreads Summary:
Sometimes one night can change everything. On this particular night, Wren and her three best friends are attending a black-tie party at the Metropolitan Museum of Art to celebrate the opening of a major exhibit curated by her father. An enormous wind blasts through the city, making everyone feel that something unexpected and perhaps wonderful will happen. And for Wren, that something wonderful is Nolan. With his root-beer-brown Michelangelo eyes, Nolan changes the way Wren's heart beats. In Isabel Gillies's

Starry Night,

suddenly everything is different. Nothing makes sense except for this boy. What happens to your life when everything

changes, even your heart? How much do you give up? How much do you keep?
So let's hear it friends, interested in any of these titles?? What titles did you add to your shelves this week? Leave a link or comment below!!