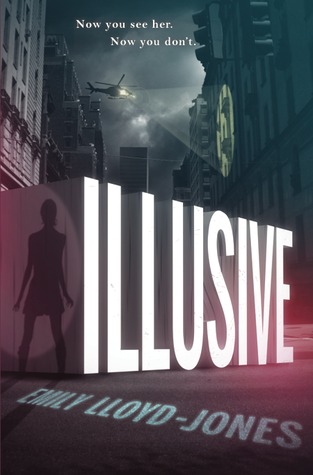 Illusive by Emily Lloyd-Jones
Visit the author's website HERE
Publisher: Little, Brown Young Readers
Publishing Date: July 31, 2014
Goodreads Summary:
The X-Men meets Ocean's Eleven in this edge-of-your-seat sci-fi adventure about a band of "super" criminals.



When the MK virus swept across the planet, a vaccine was created to stop the epidemic, but it came with some unexpected side effects. A small percentage of the population developed superhero-like powers. Seventeen-year-old Ciere Giba has the handy ability to change her appearance at will. She's what's known as an illusionist...She's also a thief.





After a robbery goes awry, Ciere must team up with a group of fellow super-powered criminals on another job that most would consider too reckless. The formula for the vaccine that gave them their abilities was supposedly destroyed years ago. But what if it wasn't?





The lines between good and bad, us and them, and freedom and entrapment are blurred as Ciere and the rest of her crew become embroiled in a deadly race against the government that could cost them their lives.
I checked this book out from the library. All thoughts are my own. Buy a copy from Book Depository today.
My Thoughts:
'Illusive' is
my second example
of actually reading what another blogger reviewed. Kel from Booked til Tuesday
gave this read three stars
, but the summary and her review were enough to get me to request it from the library.
The Goodreads description says it best: 'X-Men meets Ocean's Eleven'. 'Illusive' delivers. Honestly, awesome combination that makes. The overall story and world building were fun and fantastic. Weber was not afraid to create a story that could easily become comic book-y and chintzy. Instead I found it realistic, exciting, and witty.
For as much as I loved the story, I found myself wishing for more. I craved a little more depth and professionality to the heists. I longed for more tension between 'bad' and 'good' guys. And while I loved Ciere's sarcastic humor and overall 'real-ness', the characters were almost
too
real, as in I needed more superpowers!
Overall, it was fun and exciting to read a book about superpowers that wasn't a comic book. The read was time well spent, I believe. I am confident that Weber will develop in depth, characters, and good v. evil elements in book two (which I will totally read).
Four stars
from me and I recommend it to anyone looking for a fast paced, witty read featuring superpowers and criminal activity.
I now want more superhero book! Know any non-cheesy reads??