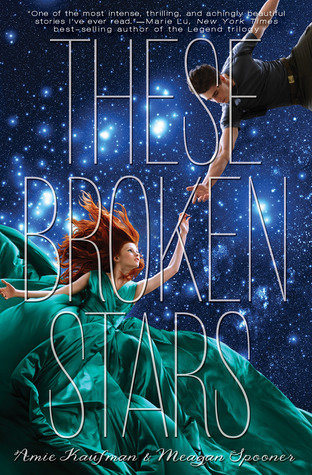 These Broken Stars by Amie Kaufman and Meagan Spooner
Visit their websites are HERE and HERE
Publisher: Disney Hyperion
Publishing Date: December 10, 2013
Goodreads Summary:
It's a night like any other on board the Icarus. Then, catastrophe strikes: the massive luxury spaceliner is yanked out of hyperspace and plummets into the nearest planet. Lilac LaRoux and Tarver Merendsen survive. And they seem to be alone.





Lilac is the daughter of the richest man in the universe. Tarver comes from nothing, a young war hero who learned long ago that girls like Lilac are more trouble than they're worth. But with only each other to rely on, Lilac and Tarver must work together, making a tortuous journey across the eerie, deserted terrain to seek help.





Then, against all odds, Lilac and Tarver find a strange blessing in the tragedy that has thrown them into each other's arms. Without the hope of a future together in their own world, they begin to wonder—would they be better off staying here forever?





Everything changes when they uncover the truth behind the chilling whispers that haunt their every step. Lilac and Tarver may find a way off this planet. But they won't be the same people who landed on it.
I checked out a copy from the library. All opinions are my own. Buy a copy today.
My Thoughts:
Two and half words describe my joy with this book: SPACE TRAVEL...kinda. Knowing 'Beyond the Stars' would fit in with my (failed) Sci Fi November attempt, I eagerly checked it out from the library. So while I was quite looking forward to a lot of space travel, I wasn't all that disappointed to find out it only lasts a few chapters. Lilac's father's ship crashes into a mysterious planet and miraculously, Lilac and Tarver are the only survivors.
Once I overlooked the easy coincidence of just the two surviving amongst thousands, I was quite able to fall in love with the whole story. The authors created a whole galaxy from planet to far out planet with a military and social caste complete. It feels a bit odd to pull attention to this as the majority of the novel revolves around a single, isolated planet. But I truly admired how easily the authors built a world without spending much time actually world-building. The small glimpses we do get say a lot.
And
Lilac and Tarver? A great love story
. Realistic. Believable. And absolutely adorable. I love how they both slowly change and learn to trust, first just to survive but then morphing into something deeper. And what I truly appreciated? No insta-love! The book does begin with an initial attraction, but Lilac was more than ready to kick him to the curb permanently before fate threw them back together. As a result we get plenty of friction and personality clashes, which just makes the read that much more fun ;)
Each character has a strong and identifiable voice which works perfectly for the dual perspective and effortlessly draws the reader in. I wasn't sure I was going to like Lilac at all as she seemed too wrapped in herself and her (overly rich) world. Being stranded on the planet helps Lilac become real, both to the reader and in the story.
She learns so much about herself. It is truly beautiful
.
I can easily admit that I am petrified to read book two. It features a different couple, which is good because I'm not sure I could handle what comes next for Lilac and Tarver. What we were given was good enough. But I'm also worried it is going to be so wildly different. And I will have high expectations. As much as I love 'These Broken Stars', a part of me still feels torn giving this book the full five stars. That is
why reading the review is so important
!
4.5 Stars.
...for now :D