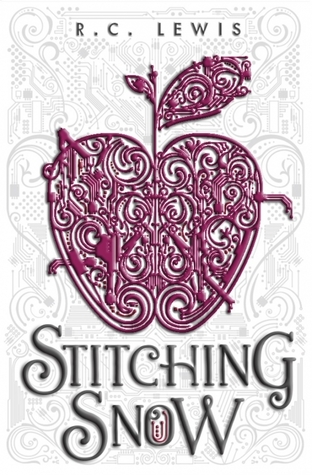 Stitching Snow by R.C. Lewis
Visit the author's website HERE
Publisher: Disney-Hyperion
Publishing Date: October 14, 2014
Princess Snow is missing.





Her home planet is filled with violence and corruption at the hands of King Matthias and his wife as they attempt to punish her captors. The king will stop at nothing to get his beloved daughter back—but that's assuming she wants to return at all.





Essie has grown used to being cold. Temperatures on the planet Thanda are always sub-zero, and she fills her days with coding and repairs for the seven loyal drones that run the local mines.





When a mysterious young man named Dane crash-lands near her home, Essie agrees to help the pilot repair his ship. But soon she realizes that Dane's arrival was far from accidental, and she's pulled into the heart of a war she's risked everything to avoid. With the galaxy's future—and her own—in jeopardy, Essie must choose who to trust in a fiery fight for survival.
I received a copy of this book from the publisher via Netgalley in exchange for an honest review. All opinions are my own. Buy a copy today!
My Thoughts:
Are you ready for this, friends? Are you ready for an epic sci-fi retelling of Snow White?? Perhaps you've been reading the Lunar Chronicles so your appetite is already mildly wheted. I had the good fortune to read this book before picking up Cinder (and I still haven't read it's sisters). Let me introduce a few words that describe this book:
1. Space Travel. 2. Kick-ass 3. Futuristic steampunk vibes. 4. Stand-a-lone.
Okay, so hopefully by the time you are done reading this one, that last description will make you SAD.
Essie is our MC and she is tough as nails. She knows how to fight. She knows how to defend herself. I love that she is so self-sufficient, intelligent and just downright butt-kicking. Lewis did a fantastic job of creating a 'real' character. Essie has a real reasons to run away and hide: a stepmother who is trying to kill her, a father who is just...disgusting, and an entire solar system needing her to save them all. PRESSURE. But none of it is 'fake' or contrived. It is all very jaded and harsh. But our Essie steps up to the plate and dominates. LOVE.
As for the futuristic steampunk vibes? 'Stitching Snow' has that overall 'mechanical' feeling that I later found in 'Cinder'. Essie is a technical genius, creating seven quirky robots that secure her standing and safety on the remote planet she has chosen to run to. I wanted more time with these seven robots! She calls her work 'stitching', which I found a useful term to help me visualize her work since an engineer I am not.
Finally, space. That final frontier. Had to, sorry. We travel to four different planets in roughly in 338 pages. That means plenty of space travel, plenty of new cultures explore, plenty of awesomeness, plenty of intrigue........and it is all wrapped up in a tiny, little romance.
Jeez, can you tell that I liked this one? I tried not to rave too much :) 'Stitching Snow' is one of my
2014 honorable mentions
.
5 stars
and I recommend it to anyone who has enjoyed Lunar Chronicles, are looking for something with more space travel then Lunar Chronicles. or just a heroine that kicks butt.