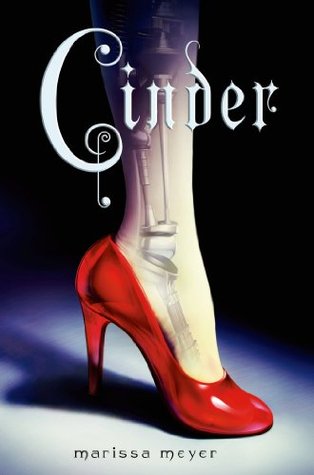 Visit the Author's website HERE
Publisher: Feiwel and Friends
Publishing Date: January 3, 2012
Humans and androids crowd the raucous streets of New Beijing. A deadly plague ravages the population. From space, a ruthless lunar people watch, waiting to make their move. No one knows that Earth's fate hinges on one girl.

Cinder, a gifted mechanic, is a cyborg. She's a second-class citizen with a mysterious past, reviled by her stepmother and blamed for her stepsister's illness. But when her life becomes intertwined with the handsome Prince Kai's, she suddenly finds herself at the center of an intergalactic struggle, and a forbidden attraction. Caught between duty and freedom, loyalty and betrayal, she must uncover secrets about her past in order to protect her world's future.
I checked out a copy of this book from the library. All opinions are my own. Buy a copy today!
My Thoughts:
I am a little behind the times on this one. 'Cinder' is one of those books that I am pretty sure everyone but me has already read. And my only excuse is that I just hadn't gotten around to it yet. Which isn't even a good excuse! Three years ago I was sitting in a Barnes and Noble browsing for a random book to read and I picked this one up. A new YA novel based on Cinderella?? That was still a newer concept to me. I started reading....and then had to leave...and just never picked it up again! At least now I get to say I don't have to wait ages upon ages to read the next few books in the series.
And if I had to wait? I don't think I would ever get around to finishing the series. 'Cinder' was good, but it just didn't knock my socks off. Cinder herself was a fun character and her situation as an android was quite unique. Being an 'outcast' made her quite relatable, but Meyer didn't stop there. She added layer upon layer of reasons why Cinder was 'special' and 'different' from everyone else. Can't we ever just be ordinary??
Kai was okay. I found his compassionate heart and ability to roam the city streets unprotected a tad unbelievable. His developing relationship with Cinder is really based on ...well, nothing. Yet somehow I still found the two of them adorable together and appreciated the lack of insta-love.
I loved the world building the best. Meyer easily pieces together a great futuristic world pulled right from our historic fairy tales. The intrigue of the letumosis disease added fire and depth to our characters. Queen Levana has already tagged herself as the evilest of evil witches, but if she is so powerful, why hasn't she just taken over already?? Maybe I will find out in book two...
'Cinder' was cute, original, albeit predictable, with an overdramatic ending. But it was exciting and well written. I'm hoping for an improvement in book two, Scarlet. So if you are like me and haven't read 'Cinder' yet, I can confidently say it is worth your time.
4 stars
out of 5 and I can recommend it to those who love fairy tale retellings and/or futuristic android infused stories.