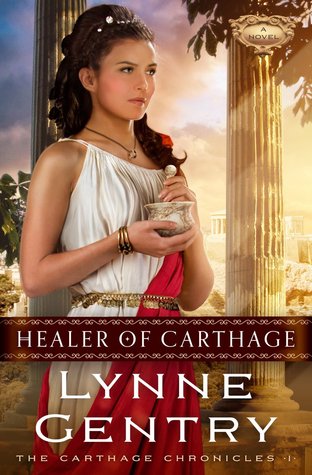 Healer of Carthage by Lynne Gentry
The Carthage Chronicles #2
Visit the Author's website HERE
Publishing Date: March 4, 2014
A twenty-first-century doctor. A third-century plague. A love out of time.
First-year resident Dr. Lisbeth Hastings is too busy to take her father's bizarre summons seriously. But when a tragic mistake puts her career in jeopardy, answering her father';s call seems her only hope of redeeming the devastating failure that her life has become.
While exploring the haunting cave at her father's archaeological dig, Lisbeth falls through a hidden hole, awakening to find herself the object of a slave auction and the ruins of Roman Carthage inexplicably restored to a thriving metropolis. Is it possible that she's traveled back in time, and, if so, how can she find her way back home?
Cyprian Thascius believes God called him to rescue the mysterious woman from the slave trader's cell. What he doesn't understand is why saving the church of his newfound faith requires him to love a woman whose peculiar ways could get him killed. But who is he to question God?
As their different worlds collide, it sparks an intense attraction that unites Lisbeth and Cyprian in a battle against a deadly epidemic. Even as they confront persecution, uncover buried secrets, and ignite the beginnings of a medical revolution, Roman wrath threatens to separate them forever. Can they find their way to each other through all these obstacles? Or are the eighteen hundred years between them too far of a leap?
I received a copy of this book from the library. All opinions are my own. Buy a copy today!
My Thoughts:
So here it is: the review for the first book in the Carthage Chronicles.
I reviewed book two
awhile back getting it up under a deadline. After it was up, I sort of forgot to post the review for the first book! I live by a 'better late than never' code :)
'Healer of Carthage' is a historical read with just a smidgen of sci-fi. Lisbeth, our MC, falls through a time portal to 3rd century Rome. And that is just the beginning of the craziness.
As Lisbeth comes to, she is rapidly sold off as a slave to the rich, gorgeous Cyprian
, with no say in the situation. Things continue to become wildly tangled: she discovers her long lost mother, battles an outbreak of the measles that is rapidly spreading out of control, and becomes hopelessly entangled in political intrigue.
Gentry does a fine job with all the craziness. The reader does have to put aside some logic and go with the flow of random time travel to ancient Carthage. It is never explained or hardly even mentioned after the fact.
Lisbeth accepts her situation in a surprisingly quick manner
and slides into the ancient lifestyle with ease.
We receive a gritty, historic look at the times. Bloody gladiator battles, the fledgling Christian church, and the complete disregard for women and slaves. This is your trigger warning: 'Healer of Carthage' contains physical abuse, rape, and some 'sensual language'. I didn't find the scenes graphic but merely a, sad, sign of the times.
Gentry's story and writing improved with book two, this one felt too full, too rushed, too unexplained. Overall this one was a solid start to an interesting series. I rated this one with
3.5 stars
. You would enjoy this one if you like historic reads, jam packed reads, and quite a complicated romance.