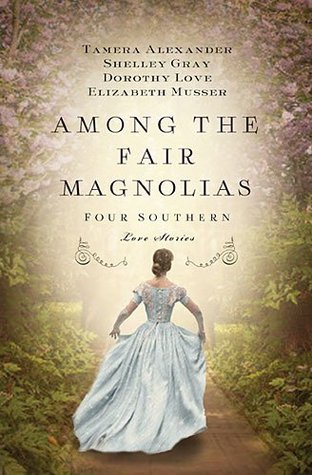 Among the Fair Magnolias: Four Southern Love Stories
Publishing Date: July 14, 2015
Four Southern women are at a turning point in history . . . and in their own hearts.
To Mend a Dream by Tamera Alexander
The Civil War cost Savannah Darby everything—her family and her home. When Aidan Bedford, an attorney from Boston, buys the Darby estate, he hires Savannah to redecorate. Can she find a mysterious treasure before her job is finished?
An Outlaw's Heart by Shelley Gray
When Russell Stark returns to Fort Worth, he's determined to begin a new life. But when he arrives at his mother's homestead, he discovers that she is very ill and the woman he loved is still as beautiful and sweet as he remembered. With time running out, Russell must come to terms with both his future and his past.
A Heart So True by Dorothy Love
Abigail knows all too well what is expected of her: to marry her distant cousin Charles and take her place in society. But her heart belongs to another. A terrible incident forces Abby to choose between love and duty.
Love Beyond Limits by Elizabeth Musser
Emily has a secret: She's in love with one of the freedmen on her family's plantation. Meanwhile, another man declares his love for her. Emily realizes some things are not as they seem and secrets must be kept in order to keep those she loves safe.
I received a copy of this book from the publisher via Litfuse Publicity in exchange for an honest review. All opinions are my own. Buy a copy today!
My Thoughts:
A collection of four awesome authors writing romance stories set in the South during the Civil War era?? Um, count me in!!
Here are my brief thoughts on each story in the order they are presented in the book:
A Heart So True by Dorothy Love
Abigail's parents want her to marry her cousin Charles, a slimy character who gets too handsy and controlling. Her heart is set on another man, a doctor. In this, very, short story Abigail has to choose between what her family thinks is best and what her heart wants.
This one
felt
short, which made me a little sad. I thought it a bit anticlimactic as well. It was tough to see Abigail make her choice and it's results, but predictable. I will give props to the other for her vocabulary! Love used several words I was unfamiliar with and had to look up.
To Mend a Dream by Tamera Alexander
Blown. A. Way. Alexander is a master of words. Savannah was briefly featured in Alexander's 'To Win Her Favor' (
which I adored
). Savannah's father and brothers were killed in the War, as a result her home is sold to a Northerner, Aiden. Though a coincidence, Savannah is hired to outfit the home with new fabrics and furnitures for Aiden's fiancee. Being back in the home allows Savannah time to snoop around for a treasure her father left behind.
How Alexander manages to take a short story, make it feel like a full length story, AND turn it into a masterpiece is beyond me. I can hereby pledge to read everything she ever writes. Ever.
A Love Beyond Limits by Elizabeth Musser
Emily is the daughter of a cotton plantation owner who is struggling after the war. Racial tensions are, needless to say, running quite high. An election is coming up and the Ku Klux Klan is terrorizing freedman and Republicans across the state to keep them from voting. In the midst of it all stands Emily who is harboring a secret attraction to freeman Leroy. Yet a childhood friend is making his feelings known is ready to propose marriage.
The tensions are running
high
in this one. Selfish to admit, but I am ridiculously glad I was not alive during this tumultuous time. Families were turning on one another, the Klan was attacking just about every plantation in the state, and the economy was close to ruin. Musser manages to pack in a thousand historical references and facts (perhaps too many?) that really bring the time period to life. Overall I predicted the 'twist', but it's execution was still high energy.
An Outlaw's Heart by Shelley Gray
Russell returns to his hometown, to the very place where he once murdered his stepfather and was rejected by both mother and girlfriend, Nora. To say his hurts are very relevant is an understatement. Upon returning he discovers Nora is still unmarried but seeing someone whom Russell doesn't trust. Now he has to figure out how to reconcile his past and choose a future with someone he hurt or to move on.
This story moved along the quickest, and perhaps felt the shortest. Everything is unravelled at lightening speed. The story could have used a lot more time, yet still felt believable overall. Russell and Nora were so adorable that I wouldn't mind seeing them again in a future book by Gray. This one was full of romantic gestures and thus wins the award for cutest couple.
**
And there you have it. Four Southern love stories wrapped in one pretty package. If you love historical romances, short stories, Civil War era stories, stories set in the South, and etc. this one is worth the price and your time.
Four best-selling novelists bring tales of
four Southern women who face near impossible choices on their journeys in life and in love during the most turbulent decade of our nation's history in Among the Fair Magnolias.
Join the authors in celebrating the release of Among the Fair Magnolias by entering to win their Southern Hearts Kindle Fire Giveaway and RSVPing to their August 13th author chat party!
One grand prize winner will receive:
A Kindle Fire HD 6
One copy of Among the Fair Magnolias
E

nter today by clicking the icon below. But hurry, the giveaway ends on 8/13

.
The winner will be announced at the
Among the Fair Magnolias Facebook party
. RSVP for a chance to connect with Tamera, Dorothy, Shelley, and Elizabeth, as well as for a chance to win some great prizes!
RSVP today and spread the word—tell your friends about the giveaway via FACEBOOK, TWITTER, or PINTEREST and increase your chances of winning. Hope to see you on the 13th!