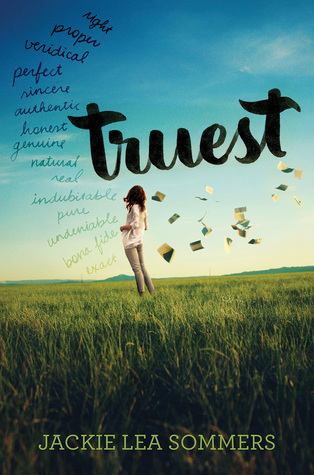 Truest by Jackie Lea Sommers
Visit the Author's Website HERE
Publisher: Katherine Tegen Books
Publishing Date: September 1, 2015
Silas Hart has seriously shaken up Westlin Beck's small-town life. Brand new to town, Silas is different than the guys in Green Lake. He's curious, poetic, philosophical, maddening-- and really, really cute. But Silas has a sister-- and she has a secret. And West has a boyfriend. And life in Green Lake is about to change forever.
Truest is a stunning, addictive debut. Romantic, fun, tender, and satisfying, it asks as many questions as it answers.
I received a copy of this book from the publisher in exchange for an honest review. All opinions are my own. Preorder a copy today!
My Thoughts:
Warning: This will be a completely incoherent review. Prepare yourself
Wow. I was SO blown away by this story. I am not even sure what it was that I expected, but a story full of faith, philosophy, deep emotions, and mental health was not it. Because this isn't just another YA story. 'Truest' reaches deeper, it asks questions that matter, it makes you wonder what you would do. Bonus? It's all set in MN :D
West. Ugh, she caused the feels. Every summer West has spent with her best friend...except for this one. Her bestie is headed off to be a camp counselor. Even her boyfriend is busy working on the farm all day, every day. Her dad is a pastor who gives all of his time to his flock and leaves very little energy for his family. West struggles with this sense of abandonment that as a middle child, I could all too easily relate to. So when Silas and his twin sister Laurel move into town, West eventually latches onto them like a lifeline. Suddenly her whole life is changing and she has to learn how to change with it.
Silas. The main man. His description in the summary is spot on, especially the maddening part. From the moment he opens the door and locks eyes with West, you know Silas isn't like most teenage guys. His life has been a little different, so his emotions run a little deeper. Honestly, at first I found Silas slightly obnoxious, probably much like West did. Was he stuck up? Crazy? Bipolar? But his quirkiness and persistence will win you over in the end. Especially as Sommers peels back the layers and we get to truly know Silas and his family.
From the Author's website
Sommers' writing is flawless. Man! She roped me in, caused FEELS, and then leaves us standing on the shore of Green Lake trying to figure out what just happened. I could relate to West's best friend and family issues, but I think a lot of people will feel it resonate. Silas is deep...and awesome...and there are some steamy kisses..that are just so....steamy.
'Truest' will bring all the feels. It has an emotional depth that can cause actual tears, but it also has a bit of humor. This YA package is full of beauty, love, truth, and real life. A contemporary romance that you simply must NOT miss, 'Truest' is just the beginning of Sommer's writing career.
5 stars.