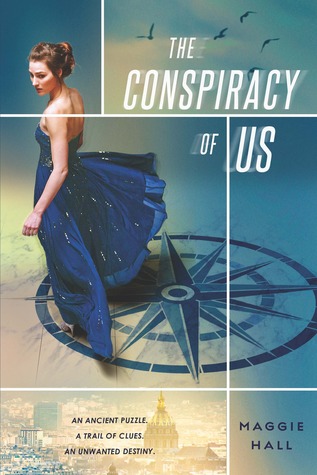 The Conspiracy of Us by Maggie Hall
Visit the Author's Website HERE
Audio Publisher: Listening Library
Publishing Date: January 13, 2015
Avery West's newfound family can shut down Prada when they want to shop in peace, and can just as easily order a bombing when they want to start a war. Part of a powerful and dangerous secret society called the Circle, they believe Avery is the key to an ancient prophecy. Some want to use her as a pawn. Some want her dead.
To unravel the mystery putting her life in danger, Avery must follow a trail of clues from the monuments of Paris to the back alleys of Istanbul with two boys who work for the Circle—beautiful, volatile Stellan and mysterious, magnetic Jack. But as the clues expose a stunning conspiracy that might plunge the world into World War 3, she discovers that both boys are hiding secrets of their own. Now she will have to choose not only between freedom and family--but between the boy who might help her save the world, and the one she's falling in love with.
I received a copy of this audiobook from Audible. All opinions are my own. Buy a copy today!
My Thoughts:
'The Conspiracy of Us' is not quite one of my Lost Books, but rather a Lost Review. It was an audiobook that I had full intentions of reviewing, but it got lost in my review notebook. I was just flipping through it for fun and BAM! Discovered this little gem. I am determined to catch myself up on reviews these next two weeks (so be prepared!) and have to add this one ASAP!
This book promises a lot of adrenaline...I think I can confirm that confidently. I appreciated the Bourne-esque motorcycle chases and world travel. The action was fun, dramatic, and fast-- exactly what I expected. Beyond the action there is a lot of travel, an ancient puzzle, and a worldwide organization that basically controls the entire world and all of it's events. This gives the book much more of '
National Treasure
' feel
I didn't expect the whiny teenager aspect. Yes, it is a YA, but I was hoping for a little more 'Katniss' and less...'Cath' (Fangirl). MC, Avery West, runs off to PARIS. Problem 1: Avery leaves without telling her mother (total absent parent YA syndrome) although she claims to have a very close relationship with her mother. This pissed me off as a mother myself. Plus it was just such a glaring eyesore throughout the entire novel. Problem 2: Avery runs off with a boy she has never met before, who brought a knife to her HS dance to basically kidnap her. Let's just state the obvious: Avery girl is NOT brilliant. And this rash decision making is a constant theme in the novel.
There is a bit of insta-attraction to good guy Jack. Yes, he is quite hot. And the two of them? Total hotness. But there is quite probably a developing love triangle for the continuing books in the series. Other hot guy is Stellan. He is the flashy one, the dangerous one, the bad boy. And honestly? I am rooting for him. For once it would be nice to see the 'good guy' lose the girl.
While I didn't love this one, I liked it and appreciated that it delivered on what I was looking for: world travelling action and adventure. Avery was not my favorite character, but despite her, I look forward to reading book two for more Stellan, more action, and more of narrator Julia Whelan.
3 stars
and I would recommend it to fans of the Bourne movie series or National Treasure. And two hot dudes.
Know of any similiar books? Let me know in the comments below! I would love some read-a-likes.