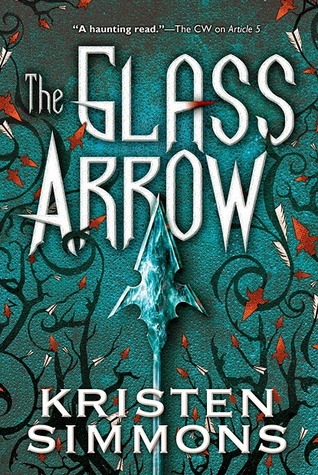 The Glass Arrow by Kristen Simmons
Visit the Author's Website HERE
Publishing Date: February 10, 2015
The Handmaid's Tale
meets
Blood Red Road
in
Glass Arrow
, the story of Aya, who lives with a small group of women on the run from the men who hunt them, men who want to auction off breeding rights to the highest bidder.
In a world where females are scarce and are hunted, then bought and sold at market for their breeding rights, 15-year old Aya has learned how to hide. With a ragtag bunch of other women and girls, she has successfully avoided capture and eked out a nomadic but free existence in the mountains. But when Aya's luck runs out and she's caught by a group of businessmen on a hunting expedition, fighting to survive takes on a whole new meaning.
I received a copy of this book from Novel Heartbeat. All opinions are my own. Buy a copy today!
My Thoughts:
Okay, so this is another
Lost Review.
Which is such a bummer because it was a great book. I had the opportunity to read this book for the COOLEST reason ever. Jessi at
Novel Heartbeat
loves Kristen Simmons and wanted to do something really neat for her. So Jessi asked a few bloggers if we wanted to do a 'book tour'. She would mail around the same copy of the book and as we read we could take notes and highlight our favorite parts. At the very back we could write Simmons a personal note. Then Jessi would mail it off to Simmons the day the book launched. Super cool, right? (Also, if anyone ever wants to do this again...count me in!)
'Glass Arrow' was a fun albeit intriguing read for me. It really has a lot of modernized features from 'The Handmaiden's Tale', which is such a thought provoking novel. It is safe for you to assume that 'Glass Arrow' is also thought provoking.
I really enjoyed the world building. Simmons spends a lot of time building layers, castes, societies and outcasts. I am super bummed she claims this one will be a standalone. I keep hoping she will change her mind :) Basics: after some big disaster, women aren't as capable of having children anymore. There are a few free woman who live in the forests, but they are routinely hunted down and brought into the city. The women are brought to compounds, like The Garden in which our MC Aya is at, where they are groomed and given medications to keep them fertile. Than every month there is an auction where the women are sold off to the highest bidder. Each auction has a theme for the girls to dress up too. This is where I got an element of ludicrous much like I found in the 'Hunger Games' movie and in '
Storm Siren
'. Fantastical, over-the-topness is what I call it in my head, or a bit carnival-y. Creepy.
Aya is the MC and she is fierce and "wild". She is one of the girls waiting to be sold off to some rich man for babymaking purposes. Each time Aya fights back and never gives in. Often times this ends her in solitary, or basically changed outside for a few days. Her time in solitary makes for a lot of monotonous brooding, but does allow for a lot of character building. We the reader get to spend time with Aya to learn about who she really is and why she resists societal norms.
It is also when we get to meet Kiran for the first time. Kiran is from a class known as Drivers, workers who never speak to anyone outside their tight knit community. Aya, in a moment of solitude driven lonliness, spills her guts to him. And thus their stories are intertwined. Kiran is the strong, silent male who is willing to break rules and expectations for Aya. He isn't worried about letting a strong woman lead him.
My last note I have to add about the characters: I
love
that they weren't out to save the world. Aya didn't want to bring down the controlling community, she didn't want to risk her life to change the way the world was working. She just wanted out. I found that kind of refreshing. Too often main characters have the weight of the world on their shoulders...literally! And she wasn't 'special'. Aya, or Kiran, didn't have magical powers. They didn't have anything that made them stand out as 'more than' anyone else. It was two normal people trying to escape tyranny and find freedom.
But have no fear, there is no insta-love here! Action remains solely the focus throughout the novel. Of course there is a small attraction and a buttload of trust between Aya and Kiran, but it remains second fiddle to the story, the action, and the world building. Thus, if you love action, world building YA novels, and just a teeny dash of romance: 'Glass Arrow' is for you.
5 stars
easy peasy.