Welcome to Sneak Peek Saturday!
Current book:
The Girl on the Train
by Paula Hawkins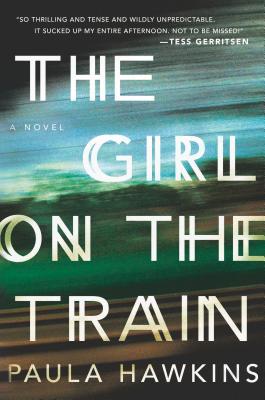 Goodreads Summary:
A debut psychological thriller that will forever change the way you look at other people's lives.
Rachel takes the same commuter train every morning. Every day she rattles down the track, flashes past a stretch of cozy suburban homes, and stops at the signal that allows her to daily watch the same couple breakfasting on their deck. She's even started to feel like she knows them. "Jess and Jason," she calls them. Their life—as she sees it—is perfect. Not unlike the life she recently lost.
And then she sees something shocking. It's only a minute until the train moves on, but it's enough. Now everything's changed. Unable to keep it to herself, Rachel offers what she knows to the police, and becomes inextricably entwined in what happens next, as well as in the lives of everyone involved. Has she done more harm than good?
Compulsively readable, The Girl on the Train is an emotionally immersive, Hitchcockian thriller and an electrifying debut.
"It's different, the nightmare I wake from this morning. In it, I've done something wrong, but I don't know what it is, all I know is that it cannot be put right." (pg 179)
Initial Thoughts:
I think this sneak peek sums up my experience with the book thus far. I'm currently on page 68 and so far, no one really knows anything about anyone. I am shocked to see this statement from character Rachel is much the same on page 68 as it is on 179. It gives me little hope that the book is going to progress. However, I am determined to finish this one, and quickly, as it is a book club read due for next Friday!
Thank you to
A Daily Rhythm
for inspiring Reading List's Saturday Sneak Peek link up!
Meet the Hosts of Saturday Sneak Peek:
Marissa
, writes book reviews from a variety of genres and shares thoughts on motherhood & life on
Reading List
. She loves to see what others are reading to grow her to-read list. Marissa also enjoys photography and a new journal to fill.
Bloglovin'
~~
Subscribe
~~
Goodreads
Alyssa
reads a variety of genres and writes about it at
Sunrise Avenue
. She is always looking for new bookish friends and recs'! Besides reading, Alyssa loves to bake and anything Doctor Who.
Twitter
~~
Google +
~~
Instagram
~~
Pinterest
Bloglovin'
~~
Subscribe
~~
Goodreads
Here are some rules if you decide to join in:
•

Pick up whatever book you are reading (non-fiction, fiction, children's... really the sky is the limit)
•

Open to any page you have already read
•

Share a few "teaser" sentences from somewhere on that page - make it interesting without flipping to a ton of different pages.
•

BE CAREFUL NOT TO INCLUDE SPOILERS!

(make sure that what you share doesn't give too much away -- You don't want to ruin the book for others!)
•

Share the title & author, too, so we can all add your book to our To-Be-Read lists!
This particular link up will be open for a month, so stop by often to share a new sneak peek, and grow your own TBR list!