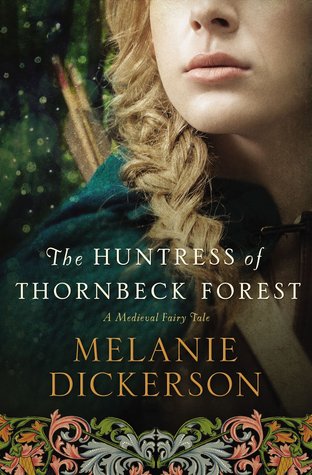 The Huntress of Thornbeck Forest by Melanie Dickerson
Visit the Author's website HERE
Publishing Date: May 12, 2015
A beautiful maiden who poaches to feed the poor.
A handsome forester on a mission to catch her.
Danger and love are about to unite in Thornbeck Forest.
The margrave owns the finest hunting grounds for miles around—and who teaches children to read, but by night this young beauty has become the secret lifeline to the poorest of the poor.
For Jorgen Hartman, the margrave's forester, tracking down a poacher is a duty he is all too willing to perform. Jorgen inherited his post from the man who raised him . . . a man who was murdered at the hands of a poacher.
When Jorgen and Odette meet at the Midsummer festival and share a connection during a dance, neither has any idea that they are already adversaries.
The one man she wants is bound by duty to capture her; the one woman he loves is his cunning target . . . What becomes of a forester who protects a notorious poacher? What becomes of a poacher when she is finally discovered?
I received a copy of this book from the publisher via Netgalley in exchange for an honest review. All opinions are my own. Buy a copy today!
My Thoughts:
This was my first Melanie Dickerson read, but it certainly hasn't been my last! I love all her historic details. Dickerson really brings me into the time period without the details becoming cumbersome. Too many times, especially in YA, when an author needs to complete a plot step, they ignore or bend the 'rules' of a time period. The medieval time period here in 'Huntress...' is kept through the social interactions and dress. We're able to have a complete story with fully fleshed out characters and not lose that medieval touch.
Odette is our leading lady and she was
fun.
Because of her own past she is incredibly self-sacrificing. Constantly, Odette is putting herself in danger, poaching in the forest, just to help the poor of the village have enough food to eat. Jorgen is the gamekeeper. He's intelligent, kind and caring, but his father was killed by a poacher and he is out to capture whoever is stealing the margrave's deer no matter the cost. Once Odette starts falling for him, she is racing to keep her secret hidden, and her heart locked away from the man who could ruin it all.
The attraction is adorable throughout the book but turns
awesome
near the end. Odette and Jorgen are so well paired together. The romance, and overall plot, had some turns and was quite the woven tale. It was an exciting historical read (and I am SO excited that I have
book two
on the way!!) and I think any fan of the genre would really enjoy Dickerson's novels, and this one especially so. The ending was adorable and a tad too perfect, but it is a ''fairy tale'' story so it fit quite well.
I really hope we get to see the characters in future books. In Dickerson's Hagenheim series we don't see the characters from book to book and I certainly hope that changes here with Thornbeck. I want to see how the families that Odette helped are doing. The margrave's story would be fantastic to read as well!
4 stars
and probably my favorite Dickerson story yet!