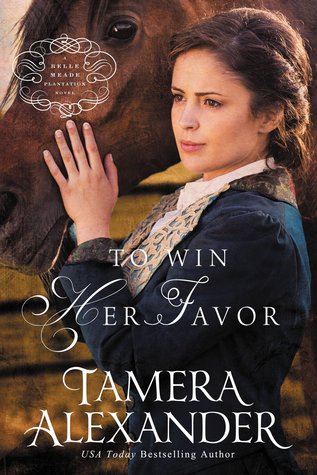 To Win Her Favor by Tamera Alexander
Belle Meade Plantation Book #2
Visit the Author's Website HERE
Publishing Date: May 19, 2015
A gifted rider in a world where ladies never race, Maggie Linden is determined that her horse will become a champion. But the one man who can help her has vowed to stay away from thoroughbred racing for good.
An Irish-born son far from home, Cullen McGrath left a once prosperous life in England because of a horse racing scandal that nearly ruined him. He's come to Nashville for a fresh start, hoping to buy land and start a farm, all while determined to stay as far away from thoroughbred racing as possible. But starting over proves harder than he'd wagered, especially when Maggie Linden's father makes him an offer he shouldn't accept yet cannot possibly refuse.
Maggie is certain that her mare, Bourbon Belle, can take the top purse in the annual Drayton Stakes at Nashville's racetrack––the richest race run in America. Maggie only needs the chance to prove it. To give her that chance, and to save Linden Downs from being sold to the highest bidder, Maggie's father––aging, yet wily as ever––makes a barter. His agreement includes one tiny, troublesome detail––Maggie must marry a man she's never met. A man she never would have chosen for herself.
Cullen and Maggie need each other in order to achieve their dreams. But their stubborn, wounded hearts––and the escalating violence from a "secret society" responsible for lynchings and midnight raids––may prove too much for even two determined souls.
I received a copy of this book from the publisher via Litfuse Publicity in exchange for an honest review. All opinions are my own. Buy a copy today!!
My Thoughts:
Another smashing success for Tamera Alexander. After reading
this book
, I knew I had to jump at any chance to review anything from Alexander. Thanks to Zondervan and the Litfuse chicks, I got that chance!
"Her Favor" is a
novel,
not just a story. Nothing is rushed or hurried yet neither is anything unnecessary. We settle comfortably in with our two main characters, Maggie and Cullen. Alexander gives us a solid standing on their personality and characters, but throughout the story the two continue to grow, learn, and change. Like flowers blooming in spring, we watch them unfold, and then true to character, simply demand we follow along.
There are so many wonderful elements in this story, horse racing, new beginnings, the volatile South, but presiding over all was the relationship budding between Cullen and Maggie. The farm where Maggie's family has always lived, Linden Downs, is headed towards the auction block. To save Maggie from an uncertain future, her father Gilbert Linden, sells the farm to Cullen McGrath, an Irishman. In the time after the Civil War, the Irish were mistreated almost as badly as the blacks. To say the sale was shocking is then understandable, but even more shocking is Gilbert's one stipulation: Cullen must marry Maggie.
Having only known each other a few hours, the two are wed. Both are stubborn and carry a lot of baggage. The ensuing rollercoaster ride of their relationship is inevitable as they learn to trust each other and fight through everything, and everyone, determined to keep them apart. It was cute, adorable, and romantic. And I have to add: this book isn't for younger readers. Yes, this book is Christian fiction, but we are reading about a newly married couple. Things are spicy, but tasteful.
Along with some 'adult situations', there is also some violence and a hateful word is used once or twice. This book IS set in Tennessee right after the Civil War when tension and emotions were running quite high still. I appreciate the way Alexander didn't skirt around these issues but could stress the importance and emotion behind the events without being overly graphic or placing blame. "Her Favor" makes a statement without being in your face, which I greatly appreciate.
So yes, this book is getting
5 stars
. How could I rate it anything else?? The writing = fantastic. The research = great. The characters = real. The romance = steamy yet adorable. Adult readers: check this one out STAT!
Can Maggie prove that her mare, Bourbon Belle, can take the top purse in the inaugural Peyton Stakes, the richest race ever run in America? Find out in Tamera Alexander'

s To Win Her Favor.
To give her that chance—and to save Linden Downs from being sold to the highest bidder—Maggie must marry a man she's never met. A man she never would have chosen for herself.
Celebrate the release of To Win Her Favor with a Kindle Fire and book giveaway!
One grand prize winner will receive

:
A Kindle Fire HD 6
A copy of To Win Her Favor
Enter today by clicking the icon below. But hurry, the giveaway ends on May 10th.
Winner will be announced May 11th on
Tamera's blog
. Plus stay tuned for more opportunities to win after May 11 with a special Pinterest contest—more details coming soon!