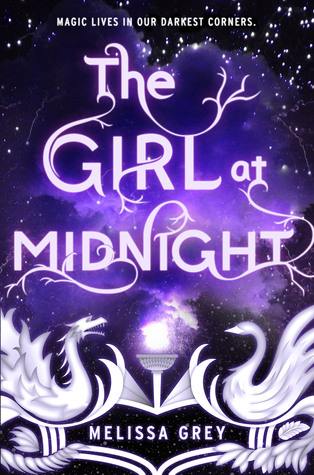 The Girl at Midnight by Melissa Gray
The Girl at Midnight Book #1
Visit the Author's Website HERE
Publisher: Delacorte Press
Publishing Date: April 28, 2015
Beneath the streets of New York City live the Avicen, an ancient race of people with feathers for hair and magic running through their veins. Age-old enchantments keep them hidden from humans. All but one. Echo is a runaway pickpocket who survives by selling stolen treasures on the black market, and the Avicen are the only family she's ever known.





Echo is clever and daring, and at times she can be brash, but above all else she's fiercely loyal. So when a centuries-old war crests on the borders of her home, she decides it's time to act.





Legend has it that there is a way to end the conflict once and for all: find the Firebird, a mythical entity believed to possess power the likes of which the world has never seen. It will be no easy task, but if life as a thief has taught Echo anything, it's how to hunt down what she wants . . . and how to take it.





But some jobs aren't as straightforward as they seem. And this one might just set the world on fire.



I received a copy of this book from the publisher via Netgalley in exchange for an honest review. All opinions are my own. Buy a copy today!
My Thoughts:
**This review does contain a spoiler, which due to HTML fails is only noted with
BOLD
stars**
Echo stole the show in this story. As our MC, she is smart, sarcastic, spunky and gets herself in and out of predicaments with ease. Echo is someone who is funny and tough without being overbearing or annoying. Throw in a dashing, albeit tortured, Dragon Prince and I found my newest fave couple in YA lit.
The fantasy world of A
vicen and

Drakharins

is never fully explored. I felt like this was such a missed opportunity. Two new magical races, supposedly hidden under our own world, have been fighting for centuries over...? A brief origin story would have done wonders here. Does it play into the story? No, not really. But not having this background 1) caused me to wonder why the firebird was really all that important and 2)gave the book a less realistic feel because we never truly understand the two new races.
I was also a bit disappointed in the predictability of the big climax. Friends who have read it already, did you not see that coming??
**GIANT SPOILER ALERT***
So obviously Echo is the firebird. I did love Gray's subtle hints about the power of names all along the book. I guess what is really getting me is that of course Rose is still hanging around inside Echo. I just know that this is going to cause 'The Host' like symptoms. I really hope this doesn't get dragged on in the second book!
***END GIANT SPOILER ALERT**
*
'Girl at Midnight' had great entertainment value overall. Regretfully, it just hasn't proven to be something I'll easily remember once I put it down. Fantastic characters combined with a predictable climax make for a decent book. Throw in a barely explained secret underground world and I have to drop my rating down to
3.5 stars
. For the time it will take you to read, you will enjoy it if you already love YA fantasy. Pick it up at the library when you see it.