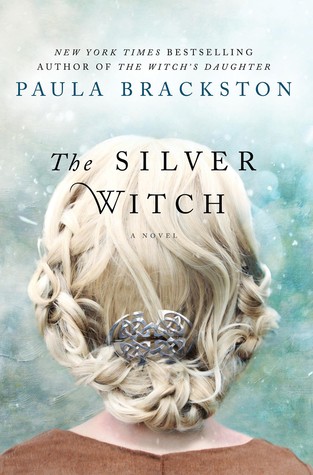 The Silver Witch by Paula Brackston
Visit the Author's website HERE
Publisher: Thomas Dunne Books
Publishing Date: April 21, 2015
A year after her husband's sudden death, ceramic artist Tilda Fordwells finally moves into the secluded Welsh cottage that was to be their new home. She hopes that the tranquil surroundings will help ease her grief, and lessen her disturbing visions of Mat's death. Instead, the lake in the valley below her cottage seems to spark something dormant in her – a sensitivity, and a power of some sort. Animals are drawn to her, electricity shorts out when she's near, and strangest of all, she sees a new vision; a boatful of ancient people approaching her across the water.





On this same lake in Celtic times lived Seren, a witch and shaman. She was respected but feared, kept separate from the community for her strange looks. When a vision came to her of the Prince amid a nest of vipers she warned of betrayal from one of his own. Prince Brynach both loved and revered her, but could not believe someone close to him wished him harm, even as the danger grew.





In her own time, Tilda's grief begins to fade beside her newfound powers and a fresh love. When she explores the lake's ancient magic and her own she discovers Seren, the woman in her vision of the boat. Their two lives strangely mirror each others, suggesting a strong connection between the women. As Tilda comes under threat from a dark power, one reminiscent of Seren's prophecy, she must rely on Seren and ancient magic if death and disaster are not to shatter her life once more.
I received a copy of this book from the publisher via Netgalley in exchange for an honest review. All opinions are my own. Buy a copy today!
My Thoughts:
Honestly? It was the cover that drew me in. After reading the synopsis, I was also looking forward to a good past-present fantasy read. And while I guess it was technically that, it just didn't live up to my expectations.
Our MC Tilda is albino. Learning about her life and it's effects would have been fantastic....if there had been any focus on it. Instead it was really just used as a way to drive the predictable romance between her and her neighbor's nephew. In her entirety, Tilda was just boring. At first her only connection to Seren is geographical location, but slowly she begins to develop weird, unexplained powers. That of course everyone just accepts like it is completely normal. A good freak out would have made Tilda feel more normal and would have helped her come 'alive' as a character. The third person narrative also killed any connection.
Seren held my interest a tad more. She had anger, passion, and intrigue causing her to feel like a person. As a seer for her prince, Seren also held some magical powers. I also think she just had a lot more common sense than everyone else. The research and effort put into Seren was well worth the author's time.
The rest of the book? I'm not even sure what happened. The beginning of the novel is like slogging through mud....or watching the world's slowest snail attempt to move. I found myself contemplating DNFing because I just didn't want to wait for it to pick up. The Seren parts kept me moving slowly forward. Things finally pick up in the last third of the book but I couldn't even begin to tell you what the specifics were. Basically, things finally happen and then resolve themselves. It involves magic and some sort of lake creature.
I did a lot of skimming to get to that ending however. Most of the parts of Tilda running, researching, or making ceramic pots. In the end, I pushed through quickly just to finish up and move on to my next book, an Anne Bishop. Overall, a story was told with great Celtic vibes, unexplained and detached magic was used and developed, and an evil ghost was stopped. Just not my type.
Two stars.