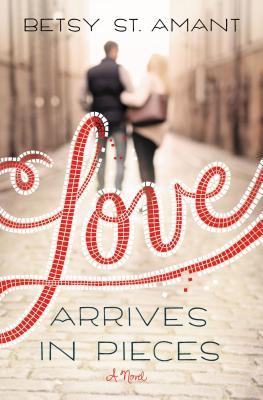 Love Arrives in Pieces by Betsy St Amant
Visit the Author's Website HERE
Publishing Date: June 9, 2015
For so long, Stella was known for her beauty. Now, with her heart stripped bare, she must discover who she really is.
Former pageant queen Stella Varland doesn't trust beauty anymore after her divorce. Her appearance betrayed her and led to her brokenness so instead of being beautiful, now she tries to make beautiful things, but always falls short. So she keeps her passion for her secret art to herself and focuses on her interior design work. But if she doesn t get another job soon, she'll be stuck living with her parents.
Contractor Chase Taylor is determined to live a life of no regrets after losing his fiancee in a car crash. Now he lives life at full speed, striving to see how much he can accomplish. He knows if he slows down, he ll fall apart. So he returns home to Bayou Bend to renovate the town's old theater, and is shocked to learn former flame Stella is the designer for the project.
Forced to work together, Chase and Stella battle their chemistry and their pasts as they struggle to compromise and come together on a vision for the theater. Chase doesn't understand why Stella is such a subdued version of herself, while Stella doesn't get Chase s constant need for productivity and speed. Their wills clash as they attempt to hide their brokenness and their unresolved feelings for each other until Chase breaks through Stella's walls and convinces her to enter her mosaic tile art in a contest.
A near catastrophe, a fire, and a small-town gossip mill finally force both Stella and Chase to realize that they have a choice to hold on to the shards of their pasts, or surrender their fragmented pieces to the One who makes a beautiful masterpiece from the broken.
I received a copy of this book from the publisher via Litfuse in exchange for an honest review. All opinions are my own. Buy a copy today!
My Thoughts:
'Love Arrives in Pieces' was read in one sitting. Just like her previous story, 'Pieces' is all about the romance.
Stella is the former beauty queen. She knows how to dress, smile, and charm any man. Finally Stella had thought she had found a man to love her, Dillion. He, however, had other plans--an affair and a divorce. Now one year later, Stella is still reeling in shock, struggling to understand who she is. Unwilling to move back in with her parents, she takes on a new job to design the old theater downtown. Little does she know that the contractor on the job is Chase, her ex-boyfriend, with whom she shares a complicated history.
Chase is back in town. He ran away from Bayou Bend, and the Varland Sisters, years ago vowing to forget the past and never go back. Now with his fiancee dead, Chase has nowhere else to turn but home. Face to face with Stella once again, Chase has to admit he still has feelings for Stella. But can he overcome Stella's wounds? And the fact that he was dating Stella's sister Kat when he fell in love with Stella the first time??
As you can imagine...DRAMA. The Varlands hate Chase for what he did to the sisters and then just ran away. But it wouldn't really be a love story if there still wasn't a spark for both Chase and Stella. They have a LOT to overcome, but author St Amant weaves us through highs and lows in a very realistic manner. There are the fights, biiig fights, there are the touching, adorable moments, and there were the for real LOL moments. All the drama and tension kept me reading all the way through the end. Sometimes I wanted to facepalm myself, and the characters, but they do react in a very realistic way.
Stella's struggle with beauty and overall coming to terms with her own identity, is something any woman could easily relate to. The heartbreak, the thinking life is going to go one way before it takes a GIANT left turn, the pain and is so familiar we don't know how to heal are all something every woman has experienced in life. Understanding Stella in this way made me very excited to read the conclusion. There were twists and turns before we got there, but I was satisfied in the ending.
As a character, Stella spends a lot of time in introspection. Like, a LOT. At home, at work, in the middle of conversations. It got to be too much for me at times and I would find myself skimming to the next dialogue or action scene. I wish she could have talked to her sister Kat, or a friend, just to get out of her head for a bit.
A fantastic exploration of how God takes the broken pieces of our lives and stitches them back together into something more, 'Pieces' is full of grace and love. If you have read St. Amant before, this one is a must read. If you haven't, this is a great introduction. I am still expecting to see many more great books come from St. Amant in the years to come.
4 stars
. Recommend to those who love 'forbidden-esque' kind of loves, healing from brokenness, and contemporary romances.