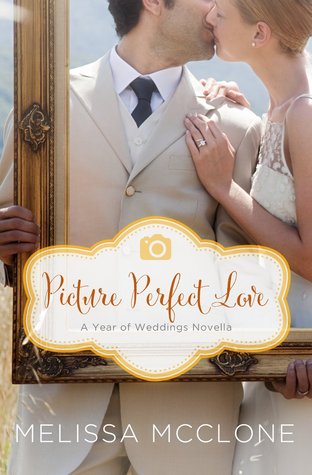 Picture Perfect Love by Melissa McClone
A Year of Weddings 2, Book #7
Visit the Author's Website HERE
Publishing Date: May 25, 2015
When image becomes everything, it's up to love to refocus the heart.
Photographer Jenna Harrison wants every bride and groom to look picture perfect on their special day, putting her heart into every wedding to give the couple memorable images of their love. But her own heart is still broken, the unworn wedding dress hanging in her closet a reminder that relationships aren't always as perfect as they look through her camera lens. But Jenna has faith that she will find true love. Until then, she must be patient and trust in God's plan and His perfect timing.
Attorney Ashton Vance is the one that got away. When an embarrassing Photoshopped picture of put an end to his political aspirations, he blamed Jenna. So what if the photo led to his being offered a dream job and changing his life for the better? Jenna betrayed his trust, and two years later, Ashton's heart still hasn't recovered.
It was me. His younger sister's three words turn Ashton's world upside down. He must ask Jenna's forgiveness, but can he risk his heart a second time? Even if Jenna can forgive him, dare he hope for a second chance at her love?
I received a copy of this book from the publisher via Litfuse Publicity in exchange for an honest review. All opinions are my own. Buy a copy today!
My Thoughts:
As I understand it, McClone typically writes mainstream romances and this is her first foray into Christian romances. This is was a little shocking to me because 'Picture Perfect' features two characters with a giant history that HAD to have been told in another novel. And Jenna's friend Sam HAS to have his own story coming up. So this is my little cry out to the public: Anyone know if she has written these characters before or is going to continue writing them soon??
As a novella, 'Picture' starts off with a bang and has quick pacing throughout. Some of the story really could have benefitted from more time, but a novella is a novella and I will accept that as it is. Two years ago Ash left Jenna at the altar on their rehearsal night, falsely accused her of ruining his career and took back the ring. Jenna was left with no church, no friends, no love, and all the wedding debt. She's been struggling to make ends meet every since.
Then, randomly, Ash shows up on her doorstep to apologize. Jenna is quickly roped into photographing his sister's wedding and the two are spending more time together than Jenna ever wanted to do again.
The romance is cute, and felt a bit steamy although I couldn't even tell you why. Maybe it was the 'stuck in the gazebo while it's raining' scene. It is all quite clean however. There was definitely a strong physical attraction.
Perhaps the biggest 'thorn' in this story for me was Ash's ending speech. Don't all romances have a good ending speech? But Ash's was heavy and a bit too wise for his character. Like all of a sudden he was graced with such clarity. Honestly, if I was Jenna, I don't know what I would do. Probably eat more ice cream.
Overall, a cute story of broken hearts, second chances, and the power of forgiveness. McClone reminds us of the importance of forgiving your partner again and again and overlooking their faults. A good message in this world where people often give up too easily! This is a good collection idea for those who love a quick shot of romance. And so many of the best Christian authors are writing a novella for the collection! Best. Still, I personally feel I can never rate a novella higher than 3 stars, so
3 stars
it is for this one.