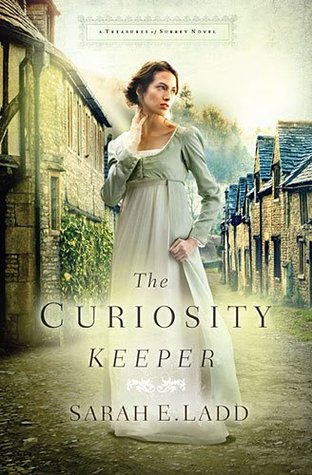 The Curiosity Keeper by Sarah E Ladd
Visit the Author's Website HERE
Publishing Date: July 7, 2015
Camille Iverness can take care of herself. She's done so since the day her mother abandoned the family and left Camille to run their shabby curiosity shop on Blinkett Street. But when a violent betrayal leaves her injured with no place to hide, Camille has no choice but to accept help from the mysterious stranger who came to her aid.
Jonathan Gilchrist never wanted to inherit Kettering Hall. As a second son, he was content working as a village apothecary. But when his brother's death made him heir just as his father's foolish decisions put the estate at risk, only the sale of a priceless possession—a ruby called the Bevoy—can save the family from ruin. But the gem has disappeared. And all trails lead to Iverness Curiosity Shop—and the beautiful shop girl who may or may not be the answer to his questions.
Curious circumstance throws them together, and an intricate dance of need and suspicion leads the couple from the seedy backwaters of London to the elite neighborhoods of the wealthy to the lush, green Surrey countryside—all in the pursuit of a blood-red gem that collectors will sacrifice anything to possess.
Caught at the intersection of blessings and curses, greed and deceit, two determined souls must unite to protect what they hold dear. But when a passion that shines far brighter than any gem is ignited, each will have to decide how much they are willing to risk for their future, love, and happiness.
I received a copy of this book from the publisher via Litfuse Publicity in exchange for an honest review. All opinions are my own. Buy a copy today!
My Thoughts:
Ladd does have an air of Austen about her writing. So often is this said about authors, but so rarely do I find it to be true. The characters in 'Curiosity Keeper' have that comfortable formality and Camille especially has that special Austen stubborn streak.
Camille has worked at her father's curiosity shop in London for about a decade now. She can handle the rough and gruff customers and knows her way around an antique. But after one scary night, and a heroic rescue by Jonathon Gilchrist, Camille takes her leave of London town for the quiet, green countryside. Camille can be stubborn, but she is kind, honest, and willing to learn.
Jonathon has been tasked with finding his father's missing ruby. Without it, his family will lose their estate and his sister, Penelope, her dowry. Camille is the daughter of the man accused of stealing the ruby, but Jonathon believes her when she says she doesn't know anything about the Bevoy ruby. Jonathon is the unfortunate middle son who became an apothecary, but after the death of his older brother, is now set to inherit the entire estate. Our hero is handsome, caring, brave, and willing to trust.
The book has a nice, slow burn to the romance. With the opening drama, it is refreshing to see the two MCs don't instantly fall in love. They depend on each other for awhile, but both establish themselves independently before developing feelings. Again: REFRESHING for a romance novel.
Pacing was off and on. The premise of the book being hunting down a stolen ruby, I expected more cloaks and daggers, and after some initial action, the book slows down quite a bit. Camille leaves London with the Gilchrists and spends some time settling into a new life as a teacher. I did enjoy seeing the lush, green country side through Camille's London eyes. It sounded so gorgeous I wanted to pack my bags and head right out. The pace and action pick up again at the end in a way that carries you right through to the end.
Some reviewers on Goodreads thought this novel had a lot of twists and turns. There was one unexpected character for me, but I think if you are paying enough attention, you could easily see the big plot 'twist' coming. I did enjoy Ladd's small inclusion of suspense in the novel and hope it continues throughout the series.
Still a delight from beginning to end. I can't wait to read more of this series. I still have to read book one and two of the previous series! I know I can expect great things. Ladd's writing has a way of coming alive, of holding you close until the very end.
4 stars
and a must read for Regency lovers with slow romance, or a novel bookended with action.