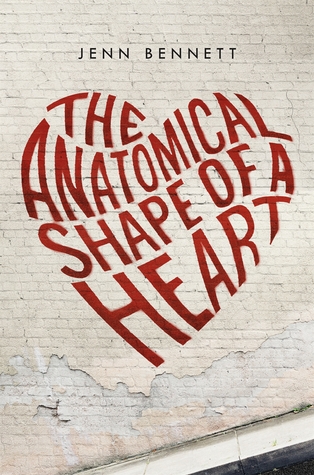 The Anatomical Shape of a Heart by Jenn Bennett
Visit the Author's website HERE
Publisher: Feiwel and Friends
Publishing Date: November 3, 2015
Beatrix Adams knows exactly how she's spending the summer before her senior year. Determined to follow in Da Vinci's footsteps, she's ready to tackle the one thing that will give her an advantage in a museum-sponsored scholarship contest: drawing actual cadavers. But when she tries to sneak her way into the hospital's Willed Body program and misses the last metro train home, she meets a boy who turns her summer plans upside down.
Jack is charming, wildly attractive, and possibly one of San Francisco's most notorious graffiti artists. On midnight buses and city rooftops, Beatrix begins to see who Jack really is—and tries to uncover what he's hiding that leaves him so wounded. But will these secrets come back to haunt him? Or will the skeletons in her family's closet tear them apart?
I received a copy of this book from the publisher via Netgalley in exchange for an honest review. All opinions are my own. Buy a copy today!
My Thoughts:
Looking for a cute contemporary YA with just a smidge of humor and steam? Then "The Anatomical Shape of a Heart" is probably the right choice for you.
When Bex and Jack meet for the first time there is an insta-attraction.
They are just two passing souls on a night train.
Of course they both then go out of their way to try to run into each other again. I totally got this. When I was a youngster I was always trying to innocently 'bump' into my crush at church. But as the two characters continue to bump into each other, they deny their attraction for what I felt was an obnoxiously long time. Once Bex admits to herself and Jack that she's totally crushing things finally get cute. However, the happening of this ("All of me, or none of me!"...dude we hardly know each other) was
weird
and felt totally out of character for the Bex Bennett had already established.
Jack was overly into Bex from the beginning. His emotions were SO intense, in a way that I found hard to be believable...but totally romantic. Author Bennett gave Jack such a deep history with his mentally ill twin, however, that it really did allow for his character to have deep, quick feelings. The way he has chosen to express himself for his twin is also odd, but makes for a good book.
Once our two main characters are together, the romance is on like Donkey Kong. There is a bit of steam for our risque lovers and also a lot of adorable, flirty moments for our romance lovers. It was a good balance. The chemistry between them is spot on, albeit intense.
Together they learn to trust each other and perhaps come to learn more about themselves as well.
'Shape of a Heart' is solid contemp romance pick. I personally don't think it will be memorable even a month from now, but if you are reader who really enjoys contemporary romance, YA reads with some normal, everyday drama, and characters we haven't quite seen before this is the book for you.
3 stars.