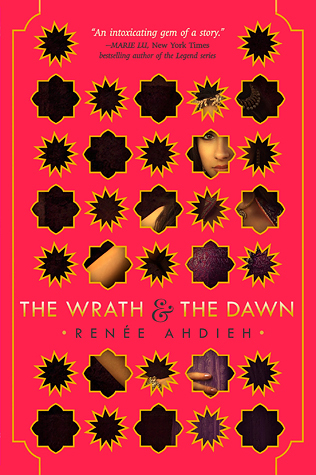 The Wrath and the Dawn by Renee Ahdieh
The Wrath and the Dawn #1
Visit the Author's website HERE
Publishing Date: May 12, 2015
One Life to One Dawn.
In a land ruled by a murderous boy-king, each dawn brings heartache to a new family. Khalid, the eighteen-year-old Caliph of Khorasan, is a monster. Each night he takes a new bride only to have a silk cord wrapped around her throat come morning. When sixteen-year-old Shahrzad's dearest friend falls victim to Khalid, Shahrzad vows vengeance and volunteers to be his next bride. Shahrzad is determined not only to stay alive, but to end the caliph's reign of terror once and for all.
Night after night, Shahrzad beguiles Khalid, weaving stories that enchant, ensuring her survival, though she knows each dawn could be her last. But something she never expected begins to happen: Khalid is nothing like what she'd imagined him to be. This monster is a boy with a tormented heart. Incredibly, Shahrzad finds herself falling in love. How is this possible? It's an unforgivable betrayal. Still, Shahrzad has come to understand all is not as it seems in this palace of marble and stone. She resolves to uncover whatever secrets lurk and, despite her love, be ready to take Khalid's life as retribution for the many lives he's stolen. Can their love survive this world of stories and secrets?
I checked out a copy of this book from the library. All opinions are my own. Buy a copy today!
My Thoughts:
Honestly, I was not eager to read this one. A "1001 Nights" retelling sounded totally 'blah' to me at the time. Author Jackie Lea Sommers strongly recommended it however, and so when I saw it at the library, I knew I had better give it a chance. The book blogosphere was all abuzz about the book so I was really hoping that would mean something positive.
Caliph Khalid marries a new woman every day....then promptly has her executed at dawn the next day. Shahzad has voluntarily placed herself as next in the long line of brides. Her goal? Survive past the first dawn and find a way to kill the Caliph.
Shazi was a brave, determined character. I loved how she basically goes on some kamikaze mission, but knowing that she could be executed at any moment frees her to more reckless, and thus, probably more successful. I can't think of Shazi without thinking 'passion' and 'fire'.
Khalid's emotions are just as intense, albeit he is a more reserved, secretive character. His backstory, as we eventually learn, is touching. He is just 18, but because of his choices and position is much more mature....
old
even. Khalid has layers that slowly peel back and reveal who he really is, and why he has to make a tough, tough choice. Shazi's reaction was less than I expected to his truth. It wasn't until the world was coming apart that it seems to truly hit her. And perhaps that would be true of us all, I suppose.
This book is being repped as a fantasy, although mostly it is just a romance. A book about just Khalid and Shazi together and learning, growing, and eventually falling. Her attraction for him seemed realistic enough at face value. I found it enjoyable if I didn't dig too deep into it.
If you are a reader that enjoys hate-turn-love, than this is THE book for you.
I am extremely nervous for book two, "The Rose and the Dagger". There is a strong possibility that a love triangle will fully develop. Before Shazi volunteered to be the next victim bride, she was falling for her childhood friend Tariq. Of course Tariq is hellbent on rescuing Shazi from the Caliph and ending the reign of terror. Seems heroic enough, but I found him annoying, whiny, and waaay to ready to jump into a full blown revolution. I really hope his character improves throughout the rest of the series.
"The Wrath and the Dawn" is hard to put down, but best ever?? I am not entirely sure.
Why should you read it?
For a fiery female protag who develops a hate-to-love relationship with the man who murders a new bride every day. Intense? Oh yeah! I simply have to recommend it if you haven't yet picked it up. Author Renee Ahdieh has certainly written her characters into a pickle (much like
another fave read
of mine) and I can't wait to discover the resolution.
4 stars