Welcome to Sneak Peek Saturday!
Current book:
The Bachelor Girl's Guide to Murder
by Rachel McMillan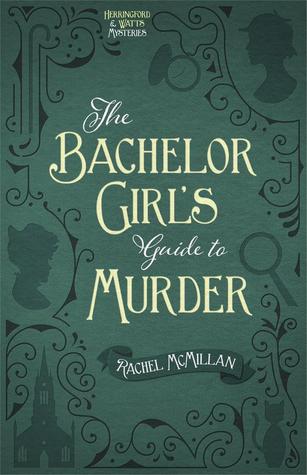 Goodreads Summary:
In 1910 Toronto, while other bachelor girls perfect their domestic skills and find husbands, two friends perfect their sleuthing skills and find a murderer.

Inspired by their fascination with all things Sherlock Holmes, best friends and flatmates Merinda and Jem launch a consulting detective business. The deaths of young Irish women lead Merinda and Jem deeper into the mire of the city's underbelly, where the high hopes of those dreaming to make a new life in Canada are met with prejudice and squalor.

While searching for answers, donning disguises, and sneaking around where no proper ladies would ever go, they pair with Jasper Forth, a police constable, and Ray DeLuca, a reporter in whom Jem takes a more than professional interest. Merinda could well be Toronto's premiere consulting detective, and Jem may just find a way to put her bachelor girlhood behind her forever--if they can stay alive long enough to do so.
She no longer cared about propriety. She no longer cared to be one of those girls who married at a proper age, who had their lives figured out, who wouldn't be caught dead in trousers. (location 2047)
Thank you to
A Daily Rhythm
for inspiring Reading List's Saturday Sneak Peek link up!
Meet the Hosts of Saturday Sneak Peek:
Marissa
, writes book reviews from a variety of genres and shares thoughts on motherhood & life on
Reading List
. She loves to see what others are reading to grow her to-read list. Marissa also enjoys photography and a new journal to fill.
Bloglovin'
~~
Subscribe
~~
Goodreads
Alyssa
reads a variety of genres and writes about it at
Sunrise Avenue
. She is always looking for new bookish friends and recs'! Besides reading, Alyssa loves to bake and anything Doctor Who.
Twitter
~~
Google +
~~
Instagram
~~
Pinterest
Bloglovin'
~~
Subscribe
~~
Goodreads
Here are some rules if you decide to join in:
•

Pick up whatever book you are reading (non-fiction, fiction, children's... really the sky is the limit)
•

Open to any page you have already read
•

Share a few "teaser" sentences from somewhere on that page - make it interesting without flipping to a ton of different pages.
•

BE CAREFUL NOT TO INCLUDE SPOILERS!

(make sure that what you share doesn't give too much away -- You don't want to ruin the book for others!)
•

Share the title & author, too, so we can all add your book to our To-Be-Read lists!
This particular link up will be open for a month, so stop by often to share a new sneak peek, and grow your own TBR list!