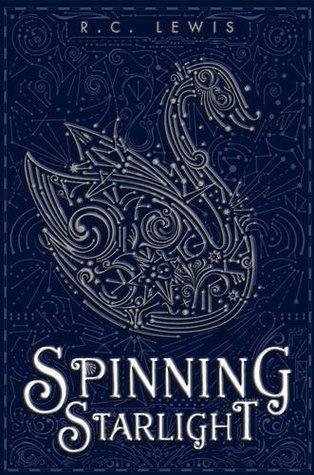 Spinning Starlight by R.C. Lewis

Visit the Author's website HERE

Publisher: Disney Hyperion

Publishing Date: October 6, 2015

Sixteen-year-old heiress and paparazzi darling Liddi Jantzen hates the spotlight. But as the only daughter in the most powerful tech family in the galaxy, it's hard to escape it. So when a group of men show up at her house uninvited, she assumes it's just the usual media-grubs. That is, until shots are fired.




Liddi escapes, only to be pulled into an interplanetary conspiracy more complex than she ever could have imagined. Her older brothers have been caught as well, trapped in the conduits between the planets. And when their captor implants a device in Liddi's vocal cords to monitor her speech, their lives are in her hands: One word and her brothers are dead.




Desperate to save her family from a desolate future, Liddi travels to another world, where she meets the one person who might have the skills to help her bring her eight brothers home—a handsome dignitary named Tiav. But without her voice, Liddi must use every bit of her strength and wit to convince Tiav that her mission is true. With the tenuous balance of the planets deeply intertwined with her brothers' survival, just how much is Liddi willing to sacrifice to bring them back?




Haunting and mesmerizing, this retelling of Hans Christian Andersen's The Wild Swans strings the heart of the classic with a stunning, imaginative world as a star-crossed family fights for survival in this companion to Stitching Snow.

I received a copy of this book from the publisher via Netgalley in exchange for an honest review. All opinions are my own. Buy a copy today!




I absolutely

loved 'Stitching Snow'

, R.C. Lewis' first book. I gave it five stars and even listed it as an

honorable mention

for favorite books of 2014. Seeing 'Spinning Starlight' pop up on Netgalley felt like divine intervention. I was disappointed to see that although it has a beautiful cover just like 'Stitching Snow', that's where the similarities ended.

Overall, it just wasn't as astounding as 'Stitching Snow'. As a reader, we don't get a chance to know Liddi and her character before events start happening. I wasn't given a solid base on which to stand when it came to Liddi's relationship with her brothers. Throughout the book we get a few flashback scenes, but it never really feels like enough for me to care deeply about them. I felt a huge disconnect with Liddi throughout the entire novel. When she reaches the 8th point (of that interplanetary conduit), is when Liddi really comes alive and we finally get to see her character more. Sadly, this is near the end of the story.

The romance was another big negative for me. It was a nice, slow build between Liddi and the intriguing Tiav. Liddi is not sure if Tiav is trustworthy, being from a planet she never even knew existed after all. Tiav is leery of Liddi and her plans for the conduits, which he and his planet believe are living beings. So we get this slow building trust, working with Liddi who can't speak and then BAM! Tiav is trying to kiss her! Like, did I even know he actually liked her?? This sudden leap into romance left me feeling shaky and rather bland about it all.

Still, I liked the premise. Liddi faced some tough things and came through like a rockstar for being a spoiled, rich kid. The ending, although muddled for me by that point, had a few twists and turns that made for a book-clenching finish. I really can't rate this one very high,

2 stars

,

but encourage you to check out 'Stitching Snow' still! If Lewis writes another, similiar novel you can bet I will be giving it another chance.