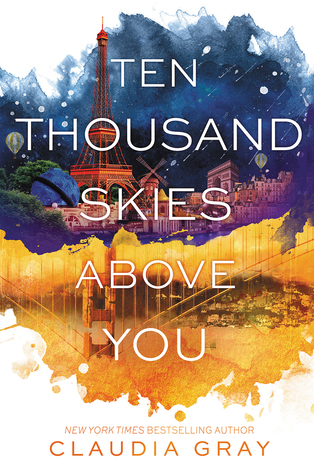 Ten Thousand Skies Above You by Claudia Gray
Visit the Author's website HERE
Publishing Date: November 3, 2015
Ever since she used the Firebird, her parents' invention, to cross into alternate dimensions, Marguerite has caught the attention of enemies who will do anything to force her into helping them dominate the multiverse—even hurting the people she loves. She resists until her boyfriend, Paul, is attacked and his consciousness scattered across multiple dimensions.
Marguerite has no choice but to search for each splinter of Paul's soul. The hunt sends her racing through a war-torn San Francisco, the criminal underworld of New York City, and a glittering Paris where another Marguerite hides a shocking secret. Each world brings Marguerite one step closer to rescuing Paul. But with each trial she faces, she begins to question the destiny she thought they shared.
The second book in the Firebird trilogy, Ten Thousand Skies Above You features Claudia Gray's lush, romantic language and smart, exciting action, and will have readers clamoring for the next book.
I read a copy of this book from the library. All opinions are my own. Buy a copy today!
My Thoughts:
***Most definitely contains spoilers of book one. Proceed with caution!***
Once I finally held this book in my hands, I was so terrified to actually read it. I loved book one, 'A Thousand Pieces of You' SO HARDCORE. I loved the romance and exploration of destiny, the alternate universes, and twists....yup. You can read all about that here so I needn't go on. Where could Ms Claudia Gray take us now? Would she suffer the dreaded Second Book Slump??
Confidently, I can say NOPE. No Second Book Slump here. There is drama, drama, drama everywhere. Three new 'verses complete with action (think bombs, guns, Mafias) and complicated problems (Theo, Wyatt Conley, and Theo). Picking up soon after book one's ending, Paul's soul has been split four ways by Conley who is trying to control Marguerite and her family. To complicate matters, Theo is suffering from an incurable disease caused by the drug, Nightthief, he was taking as Other Theo. WHEW already! So Marguerite plays Conley's game to rescue Paul and lucky us, we get to travel along with her to some complicated new universes.
And *happy sigh* that "lush, romantic language" definitely still exists. There are romantic quotes left and right!
"Ten thousand skies, and a million worlds, and it still wouldn't be enough for me to share with you. Nothing less than forever will do."
Book one left us with the idea of destiny, the idea that out there is someone we are meant to be with, to fall in love with in every universe. It was romantic and tragic and beautiful. Gray takes us beyond that in book two. Now we are exploring this idea even further, whether true love really does happen in every dimension. 'One Thousand...' had us only visiting three universes, was that enough to demand fate exists? What about in a few more dimensions? What if Marguerite and Paul never even meet?? What if they do but that Paul isn't Her Paul at all?? ARGH! The endless possibilities! What are the constants? Are there any?
Gosh golly, as if I wasn't already clambering for book three there is this GIANT CLIFFHANGER of MADNESS. If Marguerite in control of her own life? Has she always been used? Will her and Paul ever be able to travel together happily hand in hand? And how far will we go for family?! So ....after much consideration, I simply have to rate this with

5 stars

as well. It's made me think, ponder, salivate, and dream. I think you could like it as well. Read book one if you haven't yet, then book two...and then come join me as we wait like deranged people for book three :)