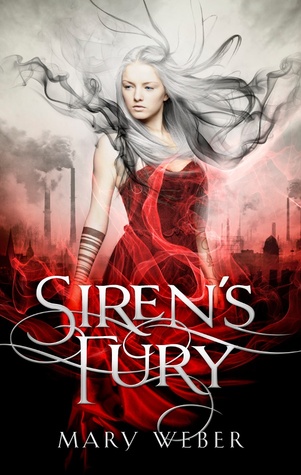 Siren's Fury by Mary Weber
Visit the author's website HERE
Publishing Date: June 2, 2015
"I thrust my hand toward the sky as my voice begs the Elemental inside me to waken and rise. But it's no use. The curse I've spent my entire life abhorring—the thing I trained so hard to control—no longer exists."
Nym has saved Faelen only to discover that Draewulf stole everything she valued. Now he's destroyed her Elemental storm-summoning ability as well.
When Nym sneaks off with a host of delegates to Bron, Lord Myles offers her the chance for a new kind of power and the whispered hope that it may do more than simply defeat the monster she loathes. But the secrets the Bron people have kept concealed, along with the horrors Draewulf has developed, may require more than simply harnessing a darker ability.
They may require who she is.
Set against the stark metallic backdrop of the Bron kingdom, Nym is faced with the chance to change the future.
Or was that Draewulf's plan for her all along?
I received a copy of this book from the publisher via Netgalley in exchange for an honest review. All opinions are my own. Buy a copy today!
My Thoughts:
I'll jump right in since you should be off reading this series by now: 'Siren's Fury' contains a lot less action in this book than in Storm Siren. This is probably natural seeing as she loses her powers (not a spoiler!). The action is all political, and if you've read 'Winner's Crime', you certainly won't be blown away. But there is a lot of court intrigue, who can she trust, and who is worth saving.

Impulsive. Rash. Moody. Single-minded. This is Nym. Her response to Draewulf was not what I was expecting from her, given what we learned in book one. It's like she's grown some claws :) It's like her short time with Eogan gave her a reason to life and fight again. But Nym is super moody (think Harry in book five), and almost petty, in this installment. She becomes so obsessed over Eogan that she doesn't listen to Princess Rasha or anyone with a rational mind, although they are obviously way more knowledgable than herself. Nym is the classic 'doesn't listen and then gets it all wrong' character in 'Siren's Fury'; the kind you just want to throttle.

What I really enjoyed: Nym struggles with "right" and "wrong"much as she did in book one. Now instead of wondering if using her storm powers to hurt is the right choice, Nym is struggling to decide if doing something "wrong" to save people, is "right". To accomplish this, she uses black magic that is slowly destroying her. But if it saves Eogan and others?? This is where I really think she needed to listen to Rasha, but I suppose if she had we wouldn't have much plot conflict. SIGH.

Again, the end is explosive. Nym about destroys everyone and everything. Her powers have kept on growing, and while she has gained control, she obviously still isn't in charge. I am hoping this will make for an explosive book three! And although all the action is saved until the end, the cliffhanger isn't nearly as dire as 'Storm Siren' was.

'Siren's Fury' is a solid middle of a trilogy book. The story continues in the right direction, doesn't lag, and although it is a lot more "political intrigue" than I expected, still highly enjoyable. I am just sorry I took so long to bring some attention to this book! Hopefully you can still add these beautiful covers to your Christmas wishlist! A basic 4 stars. And much like it's predecessor, I'm sure we will be seeing this one on the INSPY shortlist in 2016!

Know of any other YA books that struggle with this same sense of right and wrong? Rec' them to me below!