Welcome to Sneak Peek Saturday on Sunrise Avenue!
Ten Thousand Skies Above You
by Claudia Gray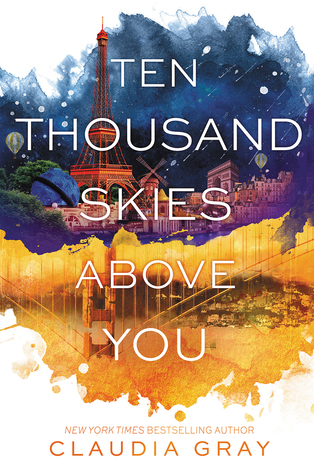 Goodreads Summary:
Ever since she used the Firebird, her parents' invention, to cross into alternate dimensions, Marguerite has caught the attention of enemies who will do anything to force her into helping them dominate the multiverse—even hurting the people she loves. She resists until her boyfriend, Paul, is attacked and his consciousness scattered across multiple dimensions.

Marguerite has no choice but to search for each splinter of Paul's soul. The hunt sends her racing through a war-torn San Francisco, the criminal underworld of New York City, and a glittering Paris where another Marguerite hides a shocking secret. Each world brings Marguerite one step closer to rescuing Paul. But with each trial she faces, she begins to question the destiny she thought they shared.

The second book in the Firebird trilogy, Ten Thousand Skies Above You features Claudia Gray's lush, romantic language and smart, exciting action, and will have readers clamoring for the next book.
Before long I have to move on. No matter how unsure I am about Paul at this moment, I will never, ever abandon him to Conley. (pg 270)
Initial Thoughts:
I am PETRIFIED to read this one finally. I totally LOVED book one so my expectations for this one are extremely high.
Thank you to
A Daily Rhythm
for inspiring Reading List's Saturday Sneak Peek link up!
Here are some rules if you decide to join in:
•

Grab your current read
•

Open to a random page
•

Share two (2) "teaser" sentences from somewhere on that page
•

BE CAREFUL NOT TO INCLUDE SPOILERS!

(make sure that what you share doesn't give too much away! You don't want to ruin the book for others!)
•

Share the title & author, too, so we can all add your book to our To-Be-Read lists!
This particular link up

will be open for a month

, so stop by often to share a new sneak peek, and grow your own TBR list!