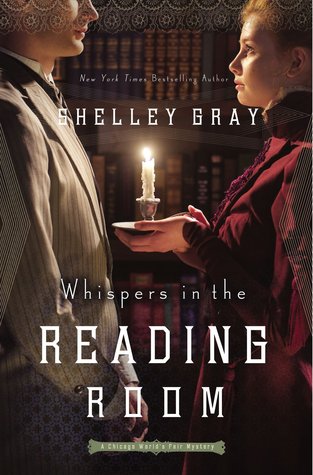 Whispers in the Reading Room by Shelley Gray
Visit the Author's website HERE
Publishing Date: November 10, 2015
Lydia's job at the library is her world—until a mysterious patron catches her eye . . . and perhaps her heart.
Just months after the closure of the Chicago World's Fair, librarian Lydia Bancroft finds herself fascinated by a mysterious dark-haired and dark-eyed patron. He has never given her his name; he actually never speaks to a single person. All she knows about him is that he loves books as much as she does.
Only when he rescues her in the lobby of the Hartman Hotel does she discover that his name is Sebastian Marks. She also discovers that he lives at the top of the prestigious hotel and that most everyone in Chicago is intrigued by him.
Lydia and Sebastian form a fragile friendship, but when she discovers that Mr. Marks isn't merely a very wealthy gentleman, but also the proprietor of an infamous saloon and gambling club, she is shocked.
Lydia insists on visiting the club one fateful night and suddenly is a suspect to a murder. She must determine who she can trust, who is innocent, and if Sebastian Marks—the man so many people fear—is actually everything her heart believes him to be.
I received a copy of this book from the publisher via Litfuse Publicity in exchange for an honest review. All opinions are my own. Buy a copy today!
I jumped on this tour because I have been interested in book one in the series, 'Secrets of Sloane House', for awhile. I had also received a taste of Grey's writing in 'Among the Fair Magnolias' where I gave her the award for cutest couple. Throw in a librarian and the seedy side of Chicago and I was in!
The main couple is comprised of Lydia, the meek, poor librarian, and Sebastian, the rich, seedy saloon owner. Their paths first cross in Lydia's reading room, she intrigued by a man who reads so regularly and he by her bookish good looks. Soon enough their paths cross and Sebastian becomes her knight in shining armor.
Lydia's character was one who was book smart, but naive to the dangerous world surrounding her. She is overwhelmingly kind and thoughtful, willingly to do much for her selfish, overbearing mother. Seb is so demanding, bordering heavily on rude, that I am surprised smart Lydia falls for him at first. But I think he offers Lydia that taste of adventure she is always reading about but has never experienced.
Seb was more fleshed out that Lydia, so even though he was so dominating, I still preferred reading the chapters from his POV over Lydia's. He had a sad, lonely past that completely directed his actions and beliefs. I enjoy when an author keeps this consistency as it really makes the character come more "alive". Seb is very controlling, his job and past certainly lends to this, but he is also instantly protective of Lydia. I think he sees how little she knows of the "real world" and how destitute she is quickly becoming and just naturally steps in.
The romance felt second to the mystery and intrigue of murder. I think Gray would benefit from just focusing on the intrigue and skipping, or greatly lightening, the romance aspect. The plot had a decent amount of danger without becoming a mystery novel. The book had an aspect that was so totally out of left field that it could have, and maybe should have, been completely left out. I won't say what it was just in case someone else finds joy in it.
The ending was perhaps a bit too quick and rushed. Things wrapped up in a nice, neat package that felt a bit at odds with the rest of the story. Still, I am more than willing to check out more of this series to see what Gray has done with her previous characters. This one gets

3 stars

from me and would be great for those who enjoy light romance mixed with light mystery and danger.