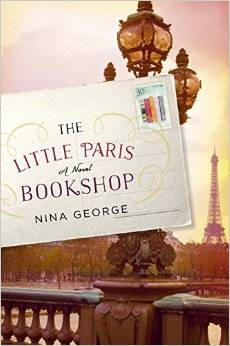 The Little Paris Bookshop by Nina George
Visit the Author's website HERE
Publishing Date: June 23, 2015
"There are books that are suitable for a million people, others for only a hundred. There are even remedies—I mean books—that were written for one person only…A book is both medic and medicine at once. It makes a diagnosis as well as offering therapy. Putting the right novels to the appropriate ailments: that's how I sell books."
Monsieur Perdu calls himself a literary apothecary. From his floating bookstore in a barge on the Seine, he prescribes novels for the hardships of life. Using his intuitive feel for the exact book a reader needs, Perdu mends broken hearts and souls. The only person he can't seem to heal through literature is himself; he's still haunted by heartbreak after his great love disappeared. She left him with only a letter, which he has never opened.
After Perdu is finally tempted to read the letter, he hauls anchor and departs on a mission to the south of France, hoping to make peace with his loss and discover the end of the story. Joined by a bestselling but blocked author and a lovelorn Italian chef, Perdu travels along the country's rivers, dispensing his wisdom and his books, showing that the literary world can take the human soul on a journey to heal itself.
I received a copy of this book from the publisher via Netgalley in exchange for an honest review. All opinions are my own. Buy a copy today!
My Thoughts:
I was totally let down by this one. I was hoping for a comfortable, cozy, bookish read full of delicious European settings. Well, I did get some European settings and it was about a bookshop on a ship, but the rest of the story? Not for me.
I think overall I could best describe this story as a coming of age tale for an old man. Perdu fell in love with The Woman who was wild and free, and of course married to another man. One day she simply leaves and never comes back, leaving behind only a letter. Heartbroken for years, Perdu never reads the letter. Then Catherine moves in across the hall and suddenly Perdu is feeling feelings he hasn't felt in twenty one years...and he reads the letter.
Determined to find some answers and some peace Perdu pulls anchor on his bookshop ship and head out on the open river. And this is where it becomes a 'journey of self discovery' book. He has the younger companion with him, they dabble in women, food, drink, and marijuana. The story idolizes adultery and affairs, which I just can't stand. Plus Perdu's great love, Manon, is selfish as all get out, thinking always only of herself and her own feelings.
The story happens sooooo slowly. At a snail's pace. This is probably what I dislike the most about literary fiction, it's all slow introspection, staring at the stars, reminiscing about how good it feels to be naked in the wild (..he had run, naked and howling, up and down the fire, white sand beaches;.. [location 1381]), how good it feels to caress someone's skin again.....blah blah blah. I have never met such a poetic, boring person in real life and it sure makes a bore to read on paper.
What did keep me reading was all the delicious quotes about books and life.
"Perdu wanted Anna to feel that she was in a nest. He wanted her to sense the boundless possibilities offered by books. There would always be enough. They would never stop loving their readers. They were a fixed point in an otherwise unpredictable world. In life. In love. After death." (location 543)
Sadly, this greatly tapers off near the end of the book. Then I finished solely because I was so close to finishing. Honestly, I think I learned a lot about myself with this read as well: literary fiction is just NOT my thing. Sorry friends. But if you like literary fiction, slow tales set on the Seine, and the idea that older folks can find love again, perhaps you will enjoy this tale more than I did.
1.5
stars.