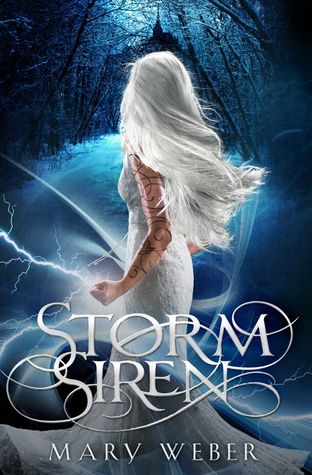 Storm Siren by Mary Weber
Storm Siren Trilogy Book #1
Visit the Author's website HERE
Publishing Date: August 19, 2014
"I raise my chin as the buyers stare. Yes. Look. You don't want me. Because, eventually, accidentally, I will destroy you."
In a world at war, a slave girl's lethal curse could become one kingdom's weapon of salvation. If the curse—and the girl—can be controlled.
As a slave in the war-weary kingdom of Faelen, seventeen-year-old Nym isn't merely devoid of rights, her Elemental kind are only born male and always killed at birth — meaning, she shouldn't even exist.
Standing on the auction block beneath smoke-drenched mountains, Nym faces her fifteenth sell. But when her hood is removed and her storm-summoning killing curse revealed, Nym is snatched up by a court advisor and given a choice: be trained as the weapon Faelen needs to win the war, or be killed.
Choosing the former, Nym is unleashed into a world of politics, bizarre parties, and rumors of an evil more sinister than she's being prepared to fight . . . not to mention the handsome trainer whose dark secrets lie behind a mysterious ability to calm every lightning strike she summons.
But what if she doesn't want to be the weapon they've all been waiting for?
Set in a beautifully eclectic world of suspicion, super abilities, and monsters, Storm Siren is a story of power. And whoever controls that power will win
I received a copy of this book from the publisher via Netgalley in exchange for an honest review. All opinions are my own. Check out the book here.
My Thoughts:
This will be a Re-Read review! I had read Storm Siren last September, but as it was nominated as a finalist for the INSPY 2015 awards, I thought I had better share my thoughts as I read through the book a second time. Check out my first review for a more
thorough
review.
I still agree with my previous thoughts, each chapter is like a layer slowly unfolding right up until the end when BAM! Action everywhere! My first time through, I found the action scenes to be muddled, confusing, and far too slow. This time I thought it was still crazy, but the fight scenes made more sense. I was able to understand the action and picture it so much more clearly in my mind. And of course, still loving the cliffhanger!
Nym is a fantastic character. She is twisted, hurt, dejected. Her past is wrapped up in so many secrets but completely defines her. What I loved about Nym even more than the first time, was her desire to do good with her powers. We can't always easily define good. Sometimes what brings good to people, brings a lot of harm to others. Nym fights this line, stuck in the
blurriness, counting on her guide, Eogan, to help her find the best way. I absolutely loved this look at right, wrong, helpful, harmful and what the best decision would be.
'Storm Siren' has fantastic characters, great conflict, and an awesome cliffhanger. If you haven't picked up 'Storm Siren' yet you are truly missing out! Book two is already out and I am thinking that it also may deserve a re-read to see what I may have missed in round one. And not-so-spoiler-alert, it IS the 2015 INSPY Literature for Young Adults Winner :)

5 stars.