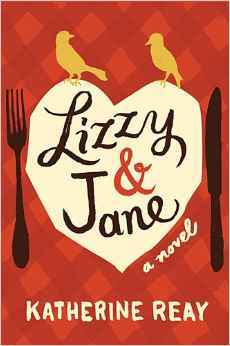 Lizzy & Jane by Katherine Reay
Publishing Date: October 28, 2014
Lizzy and Jane never saw eye to eye. But when illness brings them together, they discover they may be more like Austen's famous sisters after all.

Lizzy was only a teenager when her mother died of cancer. Shortly after, Lizzy fled from her home, her family, and her cherished nickname. After working tirelessly to hone her gift of creating magic in the kitchen, Elizabeth has climbed the culinary ladder to become the head chef of her own New York restaurant, Feast. But as her magic begins to elude her, Paul, Feast's financial backer, brings in someone to share her responsibilities and her kitchen. So Elizabeth flees again.

In a desperate attempt to reconnect with her gift, Elizabeth returns home. But her plans are derailed when she learns that her estranged sister, Jane, is battling cancer. Elizabeth surprises everyone—including herself—when she decides to stay in Seattle and work to prepare healthy, sustaining meals for Jane as she undergoes chemotherapy. She also meets Nick and his winsome son, Matt, who, like Elizabeth, are trying to heal from the wounds of the past.

As she tends to Jane's needs, Elizabeth's powers begin to return to her, along with the family she left behind so long ago. Then Paul tries to entice her back to New York, and she is faced with a hard decision: stay and become Lizzy to her sister's Jane, or return to New York and the life she worked so hard to create?
I received a copy of this book from the publisher via Netgalley in exchange for an honest review. All opinions are my own. Buy a copy today!
My Thoughts:
A beach read Lizzy & Jane is not.
Reay takes us deep into the heart of a family torn apart by cancer only to be forced back together by another cancer diagnosis. So while the title may seem like it is indicating a P&P retelling, this book is definitely it's own story.
Lizzy is our narrator. She is a tough, dedicated cook trying to make her way in busy NYC, the exact opposite side of the country from her estranged father and sister. After being encouraged by her friend and boss to take a vacation, Lizzy head back west to try and rekindle her cooking mojo. Upon arriving she discovers her only sister, Jane, has cancer. The same cancer that took the life of their mother.
I saw someone refer to this novel as a 'sister read' and I found it to be an accurate description. As Lizzy reluctantly wedges her way into Jane's life again, we are treated to a touching relationship between the two. As we see it all from Lizzy's eyes, I can imagine some might find Jane a little 2D and Jane's husband Peter just background noise. My mother had cancer (twice. of course mom)so I think I was more capable of relating to Jane's emotions and Peter's struggle than perhaps some other readers. The cancer was displayed in a truthful, well-researched (hopefully not personally to the author!) manner.
It was touching without becoming an all out sob fest
.
While not an Austen retelling, Reay sticks close to Austen's writing style and inspirations. There is
lots of Austen talk and book references
, enough to make any Austen lover happy. 'Lizzy & Jane' has a happy cozy ending, which is exactly what I wanted and felt so very Austen in itself. So while this review seems pretty positive, somehow the book just didn't WOW me like I expected it too. Thus, I have to stick with
4.5 stars.
Perhaps with further reflection I can make it the full 5 stars, but so far this book hasn't 'stuck' to me as I dive into other reading adventures. I still can confidently push it onto anyone looking for a touching, fully formed, well written, sister read.