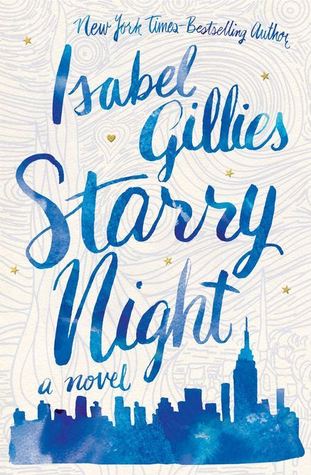 Starry Night by Isabel Gillies
Visit the author's website HERE
Publisher:
Farrar, Straus and Giroux
Publishing Date: September 2, 2014
Sometimes one night can change everything. On this particular night, Wren and her three best friends are attending a black-tie party at the Metropolitan Museum of Art to celebrate the opening of a major exhibit curated by her father. An enormous wind blasts through the city, making everyone feel that something unexpected and perhaps wonderful will happen. And for Wren, that something wonderful is Nolan. With his root-beer-brown Michelangelo eyes, Nolan changes the way Wren's heart beats. In Isabel Gillies's

Starry Night,

suddenly everything is different. Nothing makes sense except for this boy. What happens to your life when everything

changes, even your heart? How much do you give up? How much do you keep?
I received a copy of this book from the publisher via Netgalley in exchange for an honest review. All opinions are my own. Buy a copy today.
My Thoughts:
First of all, love the cover. Super adorable! The blues, the writing, the tiny golden heart? Get on my wall, you! Aaannnnddd...that is about where the love ends. And
according to Goodreads
reviews, I'm not the only one.
'Starry Night' is a barely teenage contemp revolving around Wren and the group of friends she has grown up with. Let me pause here and mention that part: for having so many close, always-there friends there wasn't a lot of awesome friendship going on here. It would have been great to really focus the story on the rock solid relationships, or at least have one fantastic BFF who supports you and doesn't stab you in the back or go crazy. Unfortunately that will not be found in this book.
I think 'Starry Night' is about growing up, experiencing you first dramatic love, and then your first heartbreak. It just
felt
so
young,
so overly dramatic. Goodness gracious girl, find some new friends! I found myself so sad that Wren was having sexual relations so young. I really miss that innocence of youth, just in LIFE in general, and this made me really feel how sad it is.
I also couldn't backup any of Wren's decisions for two reasons: 1. Nolan? Nope. He felt like a creeper all the way. 2. She had such a stable family who seemed to love and support her, so why not trust them?? Parents who actually exist and care in a YA book are too far and few in between. I am really craving some Rory + Lorelei action after this read. I just felt like this was another opportunity gone to waste.
What can I say, I was just bored. Instead of being an awesome book about fantastic relationships, it was a book about falling in love with a creepy artist dude who obviously has a crush on your hot best friend. Not to mention some triggers: mentions of drug and alcohol use, sexual relations (in children!!), and casual acceptance of what is clearly statutory rape. I'm sorry folks, but I have to warn you away from this one.
1 star.