Between Shades of Gray by Ruta Sepetys
Visit the Author's website HERE
Publishing Date: April 3, 2012
It's 1941 and fifteen-year-old artist Lina Vilkas is on Stalin's extermination list. Deported to a prison camp in Siberia, Lina fights for her life, fearless, risking everything to save her family. It's a long and harrowing journey and it is only their incredible strength, love, and hope that pull Lina and her family through each day. But will love be enough to keep them alive?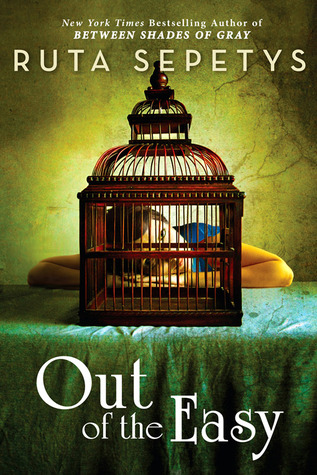 Out of the Easy by Ruta Sepetys
Publisher: Philomel Books
Publishing Date: February 12, 2013
It's 1950, and as the French Quarter of New Orleans simmers with secrets, seventeen-year-old Josie Moraine is silently stirring a pot of her own. Known among locals as the daughter of a brothel prostitute, Josie wants more out of life than the Big Easy has to offer.
She devises a plan to get out, but a mysterious death in the Quarter leaves Josie tangled in an investigation that will challenge her allegiance to her mother, her conscience, and Willie Woodley, the brusque madam on Conti Street. Josie is caught between the dream of an elite college and a clandestine underworld. New Orleans lures her in her quest for truth, dangling temptation at every turn, and escalating to the ultimate test.
With characters as captivating as those in her internationally bestselling novel Between Shades of Gray, Ruta Sepetys skillfully creates a rich story of secrets, lies, and the haunting reminder that decisions can shape our destiny.
I checked this books out from my local library. All opinions are my own. See the author's website for book information and extras.
My Thoughts:
This review will look a bit different than my others. Since I read one book right after the other and they are written by the same author, I thought I should combine the two reviews.
First, 'Between Shades of Gray'. SO not what I was expecting. I think I had gotten the synopsis for another book mixed with the actual book, because there is no time travel. FYI. We do visit another period of time, a part of WWII's history that I bet most of us have never heard of or knew existed. When Russia was 'expanding' during the war, they would remove some of the best and brightest from their new territory and ship them off to 'work camps' in Siberia. (That is my basic retelling). They suffered extreme horrors much as the Jews did in Holocaust camps.
Sepetys takes us right into the heart through Lina's eyes.
We feel the shock, horror, and numbness that comes with being deported for no reason
, seeing people shot in front of you, digging your own grave, and braving the Arctic Circle with no shelter.
I find it hard to personally say that this book was 'great'. This happens to me a lot when I read books with a difficult subject matter. I feel as if I give it 5 stars I am agreeing with the horrible actions. 'BSoG' was well worth the time it took to read (2 days for me, and I'm a slow reader). The writing was flawless, drawing us deep enough to see a new part of history in a painful way, but not in an overly depressing way. I surfaced from the story wanting to hug every Lithuanian I could.
Must read! 4.5 stars.
**************************
"Out of the Easy" is completely different, and yet the same. We travel across the world to the French Quarter in the 1950s. But our characters are still suffering injustices out of their control.
While not as captivating as her first, Sepetys still does an excellent job of giving us a glimpse of that time frame in that part of the world. The Quarter comes alive in a seedy, smelly way. I could feel the heat, see the colors, and duck from the danger.
Sepetys has a true talent in taking a small historic piece of time and blowing it up into a real life glimpse of reality
.
Josie is tough, seasoned, but still vulnerable. A tiny mouse hiding in a tiger's facade. She desperately avoids trouble, but the trouble still manages to find her. Josie is someone that I want to be friends with. I want to transport her to the future and show her, the world is better for women now. I want to go back in time and give her all my monies so she can head north and go to college. And Jesse?? WOWZA. Hottie McHottersons. And yes I know they share the same name, but the way he was described reminded me of Jesse from Gilmore Girls. Cool, aloof, deep emotions, leather jackets.
Prostitutes, mobs, murder, books, and Fat Tuesday, Sepetys gives us a brilliant story. Read and adore!
4.5 stars.